Red Sauce Pasta Recipe - Easy and Quick Pasta in Red Sauce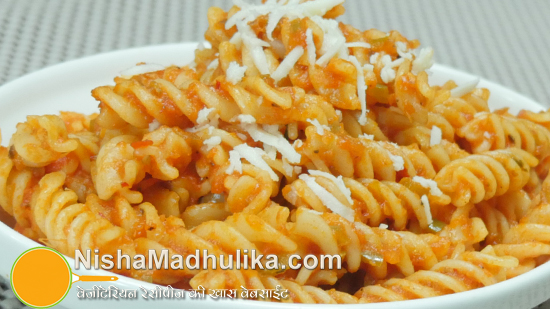 Youngsters and kid's favorite red sauce pasta is a really super tempting and toothsome food. It makes a perfect recipe for morning breakfast or supper. You can even pack this in tiffin for your kids. 
हिन्दी में पढिये : Red Sauce Pasta Recipe - Easy and Quick Pasta in Red Sauce
Ingredients for Red Sauce Pasta Recipe
Pasta – 2 cups (160 grams)
Tomatoes – 4 (400 grams)
Tomato sauce - ¼ cup
Oil – 2 to 3 tbsp
Capsicum – 1 (finely chopped)
Basil leaves – 8 to 10
Ginger – 1 tsp (paste)
Black pepper - ¼ tsp (freshly crushed)
Chilli flakes - ¼ tsp
Oregano - ½ tsp
Salt – 1.5 tsp or to taste
Mozzarella cheese – for garnishing
How to make Easy and Quick Pasta in Red Sauce
Boil the tomatoes and pasta separately for making the pasta. Take 5 to 6 cups of water in a vessel for boiling the pasta and place it on flame. Add 2 tsp oil and 1/2 tsp salt to the water while simmering (add pasta only when the water starts boiling).
In another vessel take enough water and place it on flame to simmer (take this much water that tomatoes can be drenched well). When the water starts simmering, Make cross cuts over the tomatoes and drop them in the water (make a slight cut over the tomatoes and not deep ones). Similarly, make cross marks on each tomato and drop them in water. Boil the tomatoes till their skin starts separating slightly. 
Check the water for boiling the pasta. Water has started simmering well, add pasta to it. Let the pasta simmer until it turns tender and soft. Stir at regular intervals so that they don't stick to the bottom of the vessel.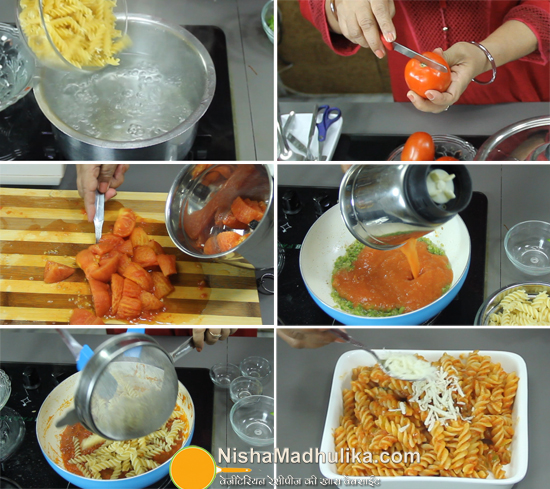 Now check the tomatoes after boiling them for 7 to 8 minutes. The skin has started separating from the tomatoes, turn off the flame and drain out the tomatoes over a plate. Let them cool down.
After this, check the pastas as well. For checking, take a pasta chunk and press it with your finger. If the pasta is easily being pressed then its ready to be used, turn off the flame now. Within 10 minutes, pasta is ready.
To drain out the pasta from water, place a sieve over a vessel and place the pasta over it. Immediately pour some cold water over the pasta and keep it aside to cool down.
When the tomatoes remain a little warm, peel and remove the stalk. Now chop them in rough chunks and place inside a mixer jar. Grind to make a fine paste.
Prepare the Red Sauce
Heat a pan over flame and pour 1 tbsp oil in it. When the oil is heated well, add ginger paste and capsicum to it. Saute for a while and then add tomato paste to the wok. Keep the flame medium. Then add basil leaves, followed by chili flakes, black pepper powder, oregano and salt. Let it cook for 5 to 6 minutes.
After 5 minutes, when the gravy turns thick in consistency, add tomato sauce to it and mix thoroughly. Red sauce for pasta is ready.
Mix the boiled pasta in this red sauce and cook for 1 to 2 minutes more. After 2 minutes, pasta is ready, turn off the flame and transfer it to a plate.
Super scrumptious and flavorsome red sauce pasta is ready. Garnish with some mozzarella cheese and serve steaming hot. 
Suggestions:
Do keep checking the pasta at regular intervals while simmering. If the pasta is over boiled then it tends to break.
You can use any other variety of pasta with this red sauce. 
If you wish to add onion and garlic then take 4 to 5 chopped garlic and 1 finely chopped onion and saute till it gets little pinkish in color. Rest follow the same the method.
Apart from mozzarella cheese you can garnish the pasta with cream as well. 
For 2 family members
Red Sauce Pasta Recipe - Easy and Quick Pasta in Red Sauce


Tags
Categories
Red Sauce Pasta Recipe - Easy and Quick Pasta in Red Sauce
Nisha Madhulika
Rating:

5.00

out of

5