Mix Vegetable Pakoda Recipe - Mixed Vegetable Pakora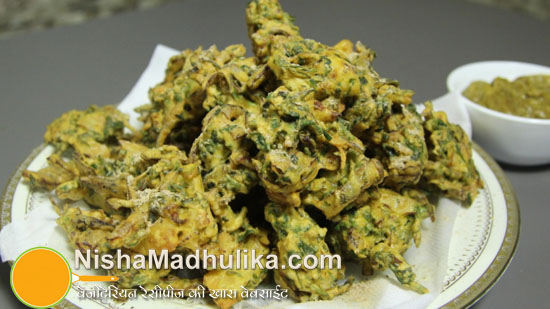 We all often relish eating pakoras prepared in numerous flavors but if we mix taste of all these pakoras then the taste gets double. Today's recipe of Mix veg pakoras is prepared with this mixed taste and flavors. Try making it and everyone will surely like it unique taste.
हिन्दी में पढिये : Mix Vegetable Pakoda Recipe - Mixed Vegetable Pakora
Ingredients for Mix Vegetable Pakoda Recipe
Chickpea flour - 1.5 cup (200 grams)
Cauliflower - 100 grams
Potatoes - 1
Cabbage - 100 grams
Fenugreek leaves - 1 cup (chopped)
Green coriander - 3 to 4 tsbp (chopped)
Ginger paste - 1 tsp
Salt - more than 1 tsp or as per taste
Green chilly - 2 to 3 (finely chopped)
Red chilly powder - 1/4 tsp
Chaat masala - 1 tsp
Oil - for frying
How to make Mixed Vegetable Pakora
Chop the veggies
Take cauliflower and chop it finely on a chopping board. Place chopped cauliflower in a bowl and likewise thinly slice the potatoes as well. Now take cabbage and chop it down finely as well.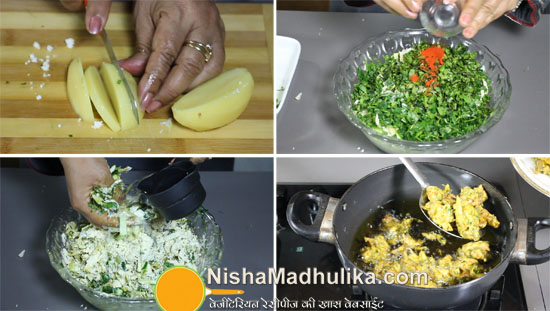 Prepare mixture for the pakoras
After cutting these veggies, mix the already chopped veggies, spinach and fenugreek leaves in to the same bowl, followed by ginger paste, salt, green chilly, green coriander and red chilly powder. Mix everything really well.
Mix chickpea flour to these chopped veggies now. Add this much flour that there is right bind in the veggies. Now add some water to the bowl and mix well. Mixture for pakoras are ready and we have used 1/2 cup of water. 
Fry the Pakoras
Heat enough oil in a wok. Drop one pakoda into the oil to check if its sufficiently hot. Pakora has gradually started floating on the surface, oil is rightly heated. Now drop rest of the pakoras in oil as well as much as possible. Flip the sides and fry until they turn golden brown in color from all sides. 
Drain out the pakoras once they turn golden brown in color on a plate covered with absorbent paper. Similarly fry rest of the pakoras as well. It takes 6 to 7 minutes for frying pakoras at once. Sprinkle some chaat masala over the pakoras and serve them steaming hot.
Super scrumptious and delectable crispy veg mix pakoras are ready. Serve them piping hot with sauce, chilly sauce, green coriander chutney and relish eating.
Suggestions
You can use any other vegetable as per your taste or availability like brinjals, zucchini, bottle gourds, capsicum and so on.
Oil for frying the pakoras should be medium hot and then fry them on medium-high flame or medium flame until crispy.
For 4 to 5 members.
Mix Vegetable Pakoda Recipe - Mixed Vegetable Pakora

Tags
Categories
Mix Vegetable Pakoda Recipe - Mixed Vegetable Pakora
Nisha Madhulika
Rating:

5.00

out of

5