Crispy Thin Potato Chips - Potato Wafers - Aloo Chips - Batata Wafers

Potato wafers consumed as light snack are always kids favorite . Old potatoes are thinly sliced, boiled, pat dried and then fried to prepare the crispy and super delicious wafers. You can keep these wafer at once and store them for up to 15 to 20 days. Have them with a steaming cup of tea or coffee.
हिन्दी में पढिये - Crispy Thin Potato Chips - Potato Wafers - Aloo Chips - Batata Wafers
Ingredients for Aloo Chips
Potatoes - 3 (500 grams) (peeled)
Oil - for frying the wafer
Salt - to sprinkle over chips
Black pepper - to sprinkle over chips
How to make Potato Wafers
For making the potato wafers, start with cutting the potatoes. For this, take some water in a big bowl. Take chips cutter and place it over the bowl. Take one potato and cut the chips. Likewise cut rest of the chips as well. Keep them drenched in water for 15 to 20 minutes.
After 20 minutes, drain out the chips from water. Take a tray covered with cotton cloth and place chips one by one over it. Extra water will be soaked by the cloth. Now keep them as it is under the fan for 15 to 20 minutes so that they dry out. Later clean them with a clean cloth.
For frying the chips, take oil in a wok and let it heat sufficiently. Check if the oil is sufficiently hot. For this, bring your hand over the wok and you will feel the warmth. Oil is sufficiently hot, now slide chips into the oil one by one.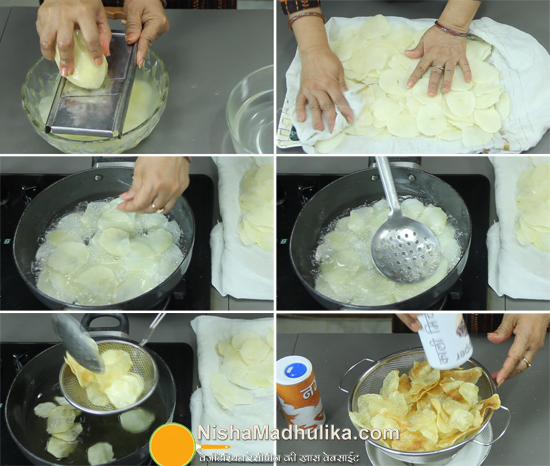 Press down the chips using a ladle and fry on medium flame until crispy. Stir the chips at regular intervals. When the chips become crispy, drain them out in a sieve over the wok itself so that excess oil drains back into the wok. After this, place the chips over another sieve placed above a plate. Likewise prepare rest of the chips as well and turn off the flame. It take 5 to 6 minutes for frying chips at once.
Sprinkle some salt and black pepper powder over the chips and stir the chips nicely. Potato chips are ready, transfer them on a plate. Crusty and crispy wafers are ready. Store them in any air container and relish eating for up to 15 to 20 days.
Suggestions
Use old potatoes for making chips and while frying the chips keep note that the oil is medium hot and the flame is medium as well.
When the oil stops creating froth understand that the chips have turned crispy and ready.
Crispy Thin Potato Chips - Potato Wafers - Aloo Chips - Batata Wafers

Tags
Categories
Crispy Thin Potato Chips - Potato Wafers - Aloo Chips - Batata Wafers
Nisha Madhulika
Rating:

5.00

out of

5