Turmeric Latte - Haldi ka Milk - Golden Drink Turmeric

Turmeric, loaded with many numerous ayurvedic benefits if consumed along with milk. Raw turmeric milk known for it benefits for muscles, skin, blood circulation, stomach problems and brain is famous with the name of Turmeric Latte as well. Consuming this milk during winters will strengthen your health.
हिन्दी में पढिये : Turmeric Latte - Haldi ka Milk - Golden Drink Turmeric
Ingredients for Golden Drink Turmeric
Raw Turmeric - 200 grams
Cow's Milk - 500 ml
Honey - 2 to 3 tsp
Cardamom powder - 1 pinch
Cardamom powder -1 pinch
Nutmeg - 1
How to make Turmeric Latte
For making turmeric milk, thoroughly rinse the raw turmeric and keep it aside to dry.
After this, take milk in any vessel and place it in flame to heat.
Meanwhile, peel and grind the turmeric. Prior peeling the turmeric wear polythene gloves else the color of turmeric can come on your hand. Now lift one turmeric chunk and scrap it like a ginger. Likewise scrap rest of the turmeric chunks as well.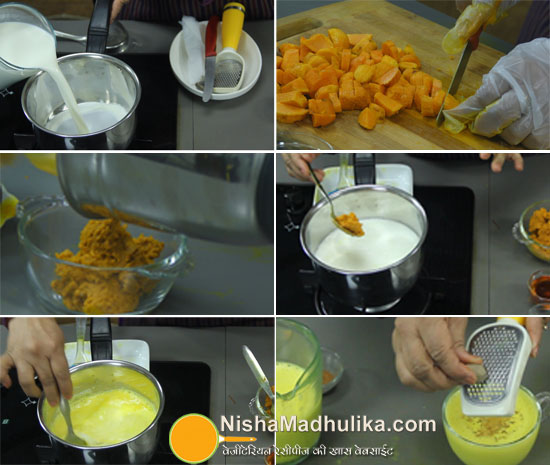 Now chop the turmeric into small chunks so that they can be grind easily in a mixer jar. Place the chopped turmeric in a mixer jar and ground very finely. Stir the turmeric once using a spoon inside the jar and grind again. Transfer the ground turmeric in a bowl.
When the milk starts simmering, reduce the flame and mix 1 tsp ground turmeric into it. Also add cardamom powder and let the milk simmer for 2 more minutes.
After 2 minutes, milk will be ready. Strain it through a sieve. Mix 2 tsp honey in the strained milk. Whisk the milk for a while to create froth.
Serve this milk in one cup and garnish with some powdered cinnamon. Also grate little nutmeg into it. Turmeric milk is ready to be served.
Healthy and super nutritious turmeric milk is ready. You will not be able to resist drinking this milk. So, consume this healthy and delicious milk and stay fit.
Suggestions:
We have used cow's milk for making this milk. You can also use almond milk, coconut milk or soya milk.
You can also use turmeric powder instead of ground turmeric but using raw turmeric is more beneficial.
Instead of finely grounding the raw turmeric, you can grated the peeled turmeric as well.
You can store the peeled and grounded turmeric in ice cubes as well. Whenever you need to prepare milk, use this one cube of stored turmeric.
Skip the use of honey if don't like it sweet or mix some sugar while simmering the milk. Use of cinnamon powder also enhances the taste of milk.
You can also use nutmeg powder instead of grated nutmeg.
Turmeric Latte - Haldi ka Milk - Golden Drink Turmeric

Tags
Categories
Turmeric Latte - Haldi ka Milk - Golden Drink Turmeric
Nisha Madhulika
Rating:

5.00

out of

5