Gur Papdi recipe - Gol papdi- Sukhadi - Gor Papri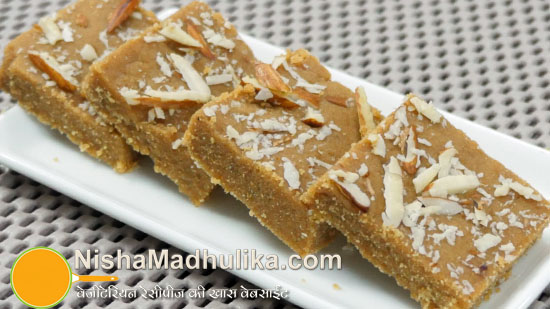 Numerous sweet dishes are prepared with jaggery, specially during winters. So why not we prepare gur papdi today. This gur papdi prepared with roasted wheat flour and jaggery are super yummy to eat and also healthy.
हिन्दी में पढिये : Gur Papdi recipe - Gol papdi- Sukhadi - Gor Papri
Ingredients for Gol papdi
Wheat flour - 1 cup (150 grams)
Jaggery - 1/2 cup (125 grams) (grated)
Ghee - 1/2 cup (125 grams)
Almonds - 5 to 6 (finely chopped)
Cardamom powder - 1/4 tsp
Nutmeg - 1
How to make Gor Papri
Roast the Flour
Start with roasting wheat flour for making the papdi. For this, heat a pan. Leave some ghee and add the rest into the pan. Let the ghee melt and then add flour to it. Stir constantly and roast until it gets golden brown in color. Keep the flame medium-low.
When the flour turns fragrant and appears golden brown in color and when the ghee starts separating from it, turn off the flame. Flour is roasted well. Keep stirring the flour constantly as the pan is still hot and it can burn.
Mix cardamom powder in the flour. Grate the nutmeg as well and mix well. To set the papdi, grease a plate with some ghee.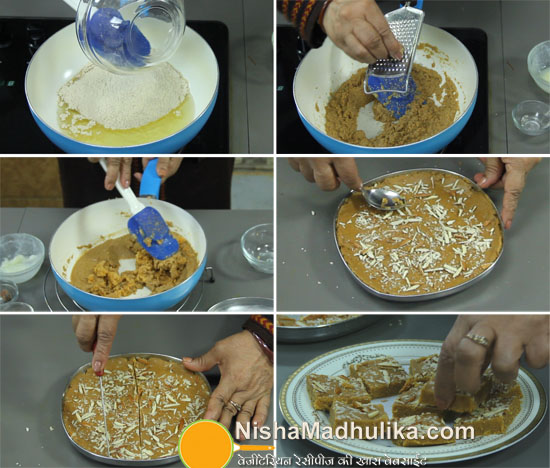 Mix jaggery to the mixture
Place the wok over a net stand. Mix the grated jaggery to the flour and mix well. Keep mixing until the jaggery mixes well into the flour and melts well. When the jaggery and flour blend well, then keep aside to set.
Set the mixture
Transfer the prepared mixture over the greased plate. Press it down gently with a spoon and even out. Sprinkle the almond shavings and press them down with a spoon.
Cut the Papdi
Make cur marks on the mixture in plate and let it cool down. Now that the gur papdi is ready, separate the chunks from plate. Super delicious and yummy gur papdi is ready.
Suggestions:
Roast the flour on medium flame until it gets golden brown in color.
Don't mix jaggery when the flour is too hot. Let it cool down a little and then mix the jaggery.
You can adjust the quantity of jaggery as per your taste. You can also finely crumble the jaggery instead of grating it.
Instead of cardamom powder, peel 4 to 5 cardamoms and ground then coarsely for use.
You can also use 1 pinch nutmeg powder instead of grated nutmeg.
You can also mix some dry fruit to the mixture.
Give desired shape and size to the gur papdi.
Gur Papdi recipe - Gol papdi- Sukhadi - Gor Papri

Tags
Categories
Gur Papdi recipe - Gol papdi- Sukhadi - Gor Papri
Nisha Madhulika
Rating:

5.00

out of

5