Moong Dal Cheela with Paneer Filling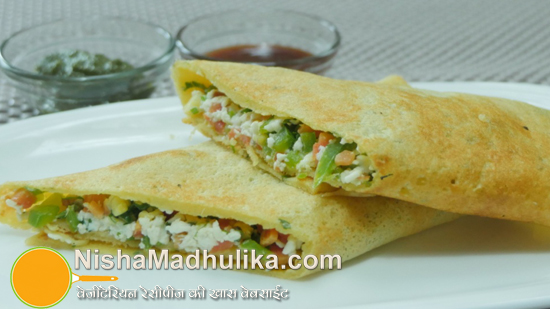 Moong dal cheela stuffed with paneer and fresh veggies filling can be served steaming hot in supper or on a holiday with a cup of tea. These can also be packed in tiffin for kids.
हिन्दी में पढिये : Moong Dal Cheela with Paneer Filling
Ingredients for Moong dal pancake Paneer stuffed
Soaked Moong dal - 1 cup ( 180 gms)
Paneer – 100 gms
Capsicum- 1/ 2 cup
Baby corn- 1/ 2 cup ( finely chopped)
Carrot- 1/2 cup ( grated)
Green coriander- 3 to 4 tbsp ( finely chopped)
Salt – More than 1 tsp ( or to taste)
Ginger paste- 1.5 tsp
Green chili- 1 ( finely chopped)
Green chili – 1
Oil- 3 to 4 tbsp
How to make Moong Dal Cheela with paneer filling
Grind the dal
To prepare the moong dal cheela, start with grinding the dal. For this, take the dal in a mixer jar and place moong dal into it along with 1 to 2 tbsp water, 1 green chili (roughly chopped), 3/4 tsp ginger paste and 3/4 tsp salt. Now grind everything little coarsely.
Prepare a batter
Take ground dal in a bowl and mix some water into it to make it little thin in consistency. The consistency of dal batter needs to be same like that required for making dosa. Mix almost 5 to 6 tbsp of water (2 tbsp water is added while grinding and 3 to 4 tbsp later). Batter is ready.
Prepare the stuffing
To prepare the stuffing, heat a pan over a flame and add 2 tsp oil into it. When the oil is sufficiently hot, add 1/2 tsp ginger paste and finely chopped green chili. Saute for a while and now add carrot, baby corn to it and saute for 1 more minute. After this, add capsicum, 1/2 tsp salt and saute the veggies for 1 minute while stirring constantly. Keep the veggies crunchy. Veggies are now roasted well, turn off the flame.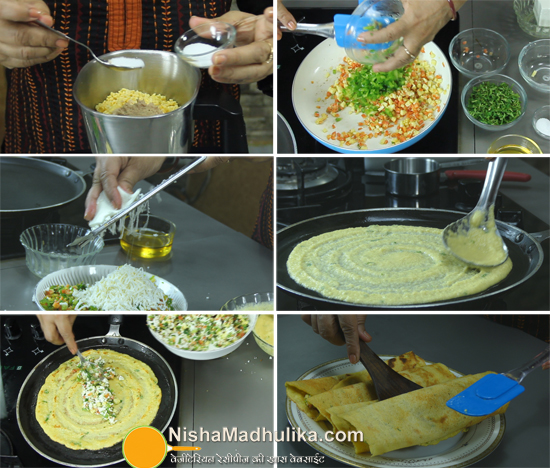 Mix some green coriander in the veggies and stir well. Now transfer these roasted veggies in a plate and let them cool down. Grate some paneer in the veggies and mix everything really well. Stuffing is now ready.
Roast the cheelas
To roast the cheelas, heat a tawa over flame. Pour some ghee over the tawa and spread it evenly. Let the tawa heat sufficiently. Mix some green coriander in the dal as well.
Once the tawa is heated well, reduce the flame to minimum and let it cool down a little. With help of a napkin, clean the extra oil. For making the cheela, pour 1 tbsp batter over the tawa and make round cheelas keeping it little thin. After this, increase the flame and pour some oil all around the cheela. Pour some oil over the cheela as well and let it roast from beneath until it turn golden brown in color.
When the cheela turn dark on the surface, flip the side and let it roast from other side as well. Keep a control on the flame and adjust as needed. Flip the cheela and check from the other side as well. When the brown spots appear, reduce the flame.
Stuff the cheelas
Place 3 tsp stuffing over the cheelas and fold the sides to cover the stuffing. Place the cheela over a plate and likewise prepare rest of the cheelas as well.
Reduce the flame to minimum. Clean the leftovers and oil from the tawa with a napkin paper and let the tawa cool down a little. After this, spread another cheela as well. You can also sprinkle some water over the tawa to cool it down. Clean the water with a napkin paper and prepare another cheela. While spreading the cheelas make sure the flame is kept low. Similarly prepare rest of the cheelas as well.
Stuffed moong dal cheelas are ready. Serve them steaming hot with spicy green coriander chutney, sweet chutney or any other dip as per your taste and relish eating.
Suggestions:
The batter should not be too thick or too thin in consistency.
You can keep the size of cheelas big or small as per your desire.
If making cheelas for kids, then omit the use of green chilies if they don't prefer eating spicy food.
You can use any other sabzi as per your taste like cauliflower, cabbage etc for making the cheelas.
Keep the flame low while spreading the cheela on tawa.
For making 5 to 6 cheelas.

Tags
Categories
Moong Dal Cheela with Paneer Filling
Nisha Madhulika
Rating:

5.00

out of

5