Khandvi Recipe - How To Make Khandavi - Gujarati Khandvi Recipe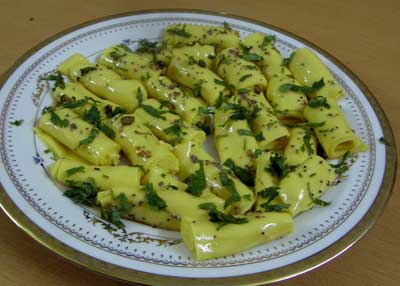 Khandvi is basically a Gujarati dish. It's very delicious and requires very little oil. Let's make the Khandvi today.
इस पोस्ट को हिन्दी में पढ़ें - खांडवी
Ingredients for Khandvi
Gram flour – 100 gm (1 cup)
Curd – 100 gm (1 cup)
Water – 200 gm (2 cup)
Turmeric powder – 1 pinch
Ginger paste – half spoon
Salt - ½ small spoon (or as per taste)
Oil – one tablespoon
Black mustard seed – one small spoon
Green chili – 2 finely cut
Coriander – finely cut
Coconut – one big spoon (grated)
How to make Gujarati Khandvi
Stir the curd. Mix curd and gram flour. In it mix water, turmeric powder, ginger paste and salt.
Put one tablespoon oil in a heavy bottomed utensil and heat it. Add the prepared solution to the oil. Keep stirring the solution with a stirring spoon. The gram flour solution with get thick. Lower the flame and keep stirring. After 8 minutes this solution will become sufficiently thick. If you cook for longer then the solution will become too thick.
Now spread this solution thinly on a big plate. The same way as you spread dosa, with the help of small bowl or stirring spoon.
 After it has cooled, cut it into, 6 inches long and 2 inches wide,  strips. Take one strip and roll it. Roll all the strips like this and put  the resulting pieces in the plate.
 Put oil in a small frying pan and heat it. Put black mustard seed in  the oil. After it has fried, add curry leave, and green chili to it and let them fry. Now pour this masala oil with a spoon on each piece in the plate.
Take out the khandvi in a serving plate and garnish with coconut and coriander. The delicious Khandvi is now ready to serve and eat along with coriander chutney.

Tags
Categories
Khandvi Recipe - How To Make Khandavi - Gujarati Khandvi Recipe
Nisha Madhulika
Rating:

5.00

out of

5