Homemade Crispy Crunchy Juicy Jalebi without yeast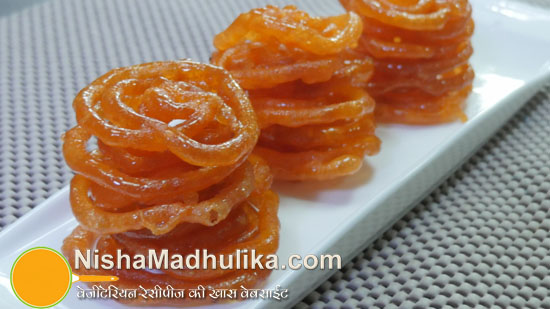 Jalebi is the famous and most relished sweet of northIndia. Generally, the batter for jalebis is prepared a day before it is made but crispy and juicy jalebis can also be prepared at home without adding yeast or any pre-arrangements. It is very easy to prepare these instant jalebi.
हिन्दी में पढिये : Homemade Crispy Crunchy Juicy Jalebi without yeast
Ingredients for No Yeast Instant Jalebi
Refined flour – 1 cup (125 grams)
Urad lentil – ¼ cup (50 grams) (Soaked)
Sugar – 2 cup (450 grams)
Red food colour – less than ½ pinch
Baking powder – 1/3 tsp
Lemon – 1
Green cardamom – 6 to 7
Ghee or refined oil – for frying
How to make Crispy Jalebi at home
To prepare the batter for jalebis
Rinse the urad dal thoroughly and soak it water for 2 hours. After 2 hours, drain the excess water and place the dal in a mixture jar. Add water as per requirement and grind to make a fine paste.
Take refined flour in a big mixing bowl and to it add baking powder and red food color. Now add water in small portions and stir to dissolve all lumps. Make a smooth batter from the flour. Add ground dal to the batter and mix everything really well. The batter for making jalebis should not be too thick or too thin in consistency. We used 3/4 cup of water for making this much quantity of water. Batter for making jalebis is now ready.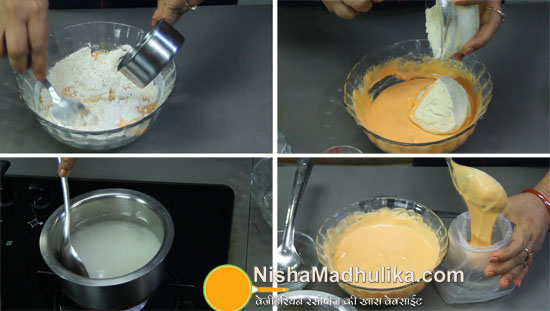 Sugar syrup is now ready for making the jalebis. Peel the cardamom and ground the seeds to make a fine powder.
Prepare Sugar Syrup for Jalebi
Take sugar in any vessel to make the syrup. Add 1.5 cup water into it and let it simmer until the sugar dissolves completely. Keep stirring at every 1 to 2 minutes. Once the sugar dissolves completely, cook it for 4 to 5 minutes.
Now check the syrup. For this, take 1 to 2 drops of syrup in a bowl and let it cool down. Then stick syrup between you finger and thumb and stretch apart. There should be formation of one thread in the syrup. If there is no formation of thread in the syrup then continue cooking it for 1 to 2 more minutes. The moment syrup gets one thread consistency, turn off the flame.
Mix 1 tsp lemon juice to the syrup. It helps syrup from crystallization. To the syrup mix cardamom powder
Prepare the Jalebis:
Heat enough ghee in a wok for frying the jalebis. Take a cone for making the jalebis (you can even use a sauce bottle to make the jalebis or use any polythene bag).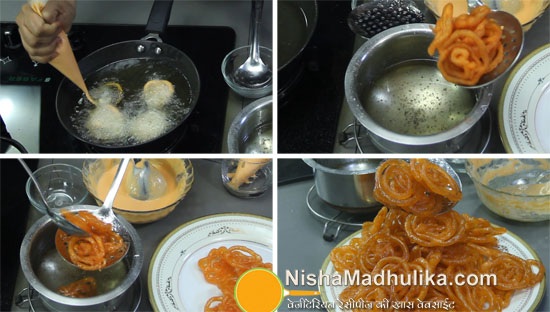 Place the cone inside a glass and fill it with the prepared batter. Make a small cut at the pointed end. When the oil is medium hot, press the cone slightly and move the wrist in circular motion to make round jalebis. Make as many jalebis as possible in the wok at once.
Fry the jalebis until they get crispy and golden brown in color. When the jalebis get golden brown and crunchy, drain them out and place them on a slotted spoon, so that excess ghee drains back to the wok. Dip the fried jalebis immediately to the sugar syrup. Keep the jalebis drenched in syrup for 1 to 2 minutes so that they absorb the syrup well. Then take out the syrup and place them on a plate. Similarly, fry rest of the jalebis and drench them in the syrup.
Piping hot and yummy crispy instant jalebis are ready. Serve and relish eating these jalebis.
Suggestion:
The batter for making jalebis should not be too thick or too thin.
The ghee for frying jalebis should be more than medium hot. If the ghee is not rightly heated then the jalebis will not puff up and if the ghee is too hot then the jalebis will burn too quickly.
Dip the jalebis in warm syrup. Jalebis will soak syrup immediately and you will get lip smacking jalebis.
These jalebis remain crispy even after 8 to 10 hours.
For 3 to 4 members
Time - 65 minutes
Quick Crispy Crispy Crunchy Juicy Jalebi Recipe

Tags
Categories
Homemade Crispy Crunchy Juicy Jalebi without yeast
Nisha Madhulika
Rating:

5.00

out of

5