Saag Paneer Recipe
With the arrival winters, we get green leafy vegetables in abundance. Today we will be using these green vegetables along with slightly sauted paneer to make a scrumptious Saag paneer recipe which is one of the most famous recipe in Punjab and Northern India.
हिन्दी में पढिये : Saag Paneer Recipe
Ingredients for saag paneer
Sarso leaves - 250 grams
Radish leaves - 2 to 3 radish's leaves
Spinach leaves - 250 grams
Fenugreek leaves - 125 grams
Green coriander - 50 to 60 grams
Green chilly - 2
Cumin seeds - 1 tsp
Asafoetida - 1 pinch
Coriander powder - 1 tsp
Oil - 2 to 3 tbsp
Ghee - 1 tbsp
Paneer - 200 grams
Tomato - 3 (200 grams)
Gram flour - 3 (200 grams)
Salt - 1 tsp or as per taste
Ginger paste - 1 tsp
Red chilly powder - 1/4 tsp
How to make the perfect saag paneer ?
Wash the sarso leaves thoroughly and remove the stalk. Separate out the leaves and wash them thoroughly with water and drain out the excess water. Now chop the leaves keeping them little thick. Select the soft radish leaves, wash them thoroughly and then chop finely.
Likewise clean the spinach, remove stalk and select the soft leaves. Wash them thoroughly and drain out the excess water. Now chop the leaves keeping them little thick. Also clean the fenugreek leaves, wash them well, dry and then chop.
Place the sarso leaves, spinach leaves, radish leaves and fenugreek leaves in pressure cooker and add 1/2 to 3/4 cup of water as well. Close with the lid and cook until it simmers once. After it simmers once, turn off the flame and let the steam to escape.
Wash the tomato-green chilies well, place them in mixture jar and make a fine paste. Also, wash the coriander leaves well and chop them finely. Cut the paneer in small chunks as well.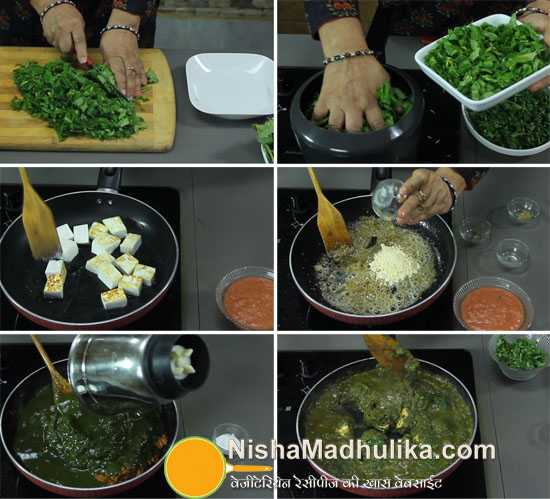 Take 1 tsp oil in the pan and place the paneer chunks to roast. Roast until they get golden brown in color from both sides. Take out the roasted chunks in a plate and add 2 to 3 tbsp more oil. When the oil is hot, add cumin seeds into it. After sauteing the cumin seeds, add asafoetida, ginger paste, coriander powder and gram flour. Saute for few minutes and then add tomato-green chilly paste into it, followed by red chilly powder. Now saute the masala until oil starts separating from it.
Open the pressure cooker's lid and when the veggies cool down, place them in mixture grinder and ground coarsely.
When the masala is sauted well, add ground veggies, salt and mix well. When the sabzi starts simmering, add paneer chunks and green coriander into it. Cover the sabzi and cook for 4 to 5 minutes on low flame. Mouth watering Saag Paneer sabzi is ready.
Take out the sabzi in a bowl. Garnish with some green coriander and pour 1 to 2 tsp desi ghee over it. This enhances the flavor of the sabzi and looks even better. Serve this tantalizing saag paneer sabzi with chapatti, parantha, naan or rice and relish eating.
For 4 members
Time - 40 minutes
Saag Paneer Recipe video in Hindi

Tags
Categories
Saag Paneer Recipe
Nisha Madhulika
Rating:

5.00

out of

5