Samosa Recipe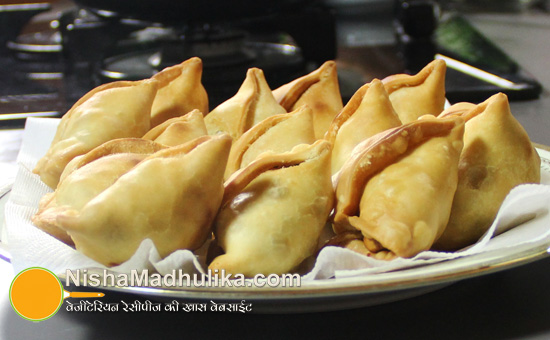 Who won't relish eating Samosas with crusty surface and stuffed with spicy filling? Making Aloo Samosa, one of the most favorite street foods, is not at all difficult. Try making this recipe for today's supper.
हिन्दी में पढिये : Samosa Recipe
Ingredients for Punjabi Aloo Samosa Recipe
For dough:
Maida - 2 cup (250 grams)
Ghee - 1/4 cup (60 grams)
Salt - 1/2 tsp (as per taste)
For stuffing:
Potatoes - 400 grams (4 medium size)
Green peas - 1/2 cup (optional)
Cashews - 10-12 (optional)
Raisins - 25-30 (optional)
Green chilly - 2-3 (finely chopped)
Ginger - 1 inch long piece (grated)
Green coriander - 2 tbsp (finely chopped)
Coriander powder - 1 tsp
Garam masala - 1/4 tsp
Mango powder - 1/2 tsp
Salt - 3/4 tsp or as per taste
Oil - for frying
How to make Samosa Recipe
Firstly, boil potatoes.
Add ghee and salt in refined flour (maida) and mix well. With help of lukewarm water, knead tight and stiff dough. Cover the dough and keep it away for about 20 min to rest, it will get puffed.
How to prepare stuffing:
Peel the boiled potatoes and mash them bit finely. Preheat a pan and add 1 tsp oil into it. When oil is sufficiently hot add ginger, green chilly and green peas into it. Cover and cook for 2 minutes so that green peas get soft. Now add finely mashed potatoes, salt, green chilly, green coriander, coriander powder, garam masala, mango powder, raisins and cashews. Mix all the ingredients really well. Stuffing for samosas is ready.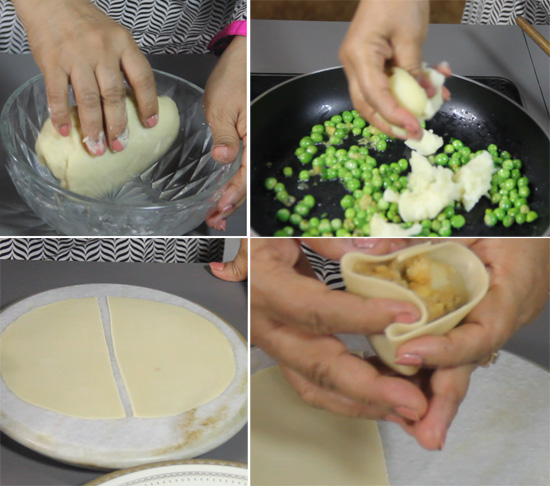 Take 7-8 lumps from dough, equal in size, and then shape them round. Roll a lump into a circular and flat shaped poori with about 8-10 inch circumference. Keep the poori bit thick.
Divide the rolled poori into two equal halves. Take one part and fold giving it a round shape (before folding, do apply some water on the edges. Method for making cone can be seen in the video).
Stuff the cone with potato filling. Give a plate or fold at the back, apply some water on both the edges and stick together. See if the shape of samosa is apt or not. Likewise prepare all samosas.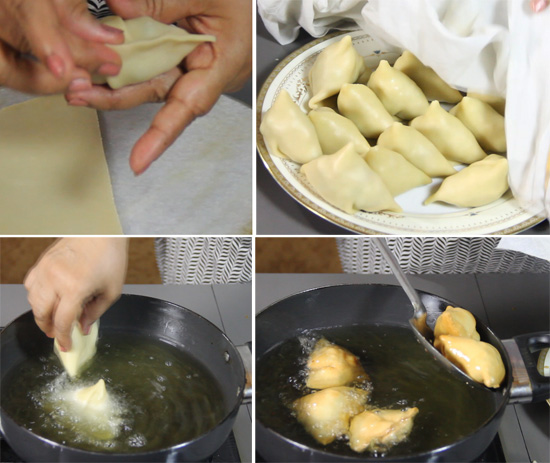 Pour some oil in a wok and heat it. When oil is sufficiently hot, place 4-5 samosas into it and fry until they turn brown in color. Keep the flame medium while frying samosas. Take out the samosas and place over a plate with absorbent paper. Likewise fry all samosas.
Piping hot samosas are ready. Serve samosas with green coriander chutney and sweet chutney and relish eating.
Suggestion:
You can add oil while kneading dough instead of ghee.
You can even skip the use of dry fruits. You can also add small paneer chunks (shallow fried).
Aloo Samosa Recipe Video in Hindi

Tags
Categories
Samosa Recipe
Nisha Madhulika
Rating:

5.00

out of

5