Halwasan Recipe - Khambati Halwasan Recipe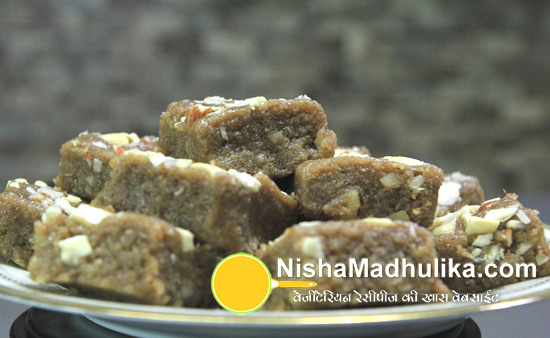 `
Halwasan is a traditional recipe of Gujarati regions. Halwasan, prepared with wheat porridge and milk, enriched with dry fruits and too easy to make can be prepared easily for any festival.
हिन्दी में पढिये : Halwasan Recipe - Khambati Halwasan Recipe
Ingredients for Halwasan
Full cream milk - 1 liter
Porridge - 1/4 cup (50 grams)
Gum raisins - 1/4 cup (50 grans)
Ghee - 1/4 cup (60 grams)
Brown sugar - 2/3 cup (150 grams)
Almonds - 20 to 25
Cashews - 20 to 25
Nutmeg powder - 1/2 tsp
Cardamom powder - 1/2 tsp
How to Make Halwasan
Take some ghee in a wok and heat sufficiently. Now add gum raisins to the ghee and fry them on low flame so that they are cooked from inside as well. When gum raisins puff up and are roasted well, take them out in a plate.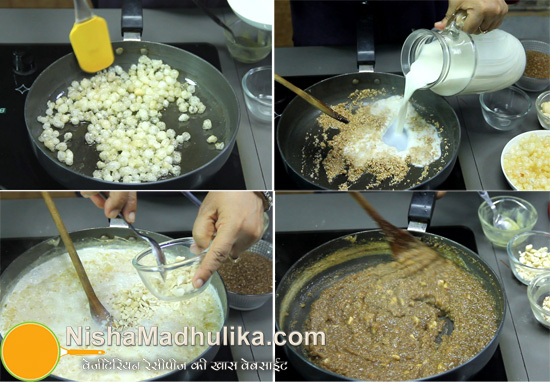 Place the porridge in a mixture jar and ground finely. Now roast the porridge in left over ghee while stirring constantly until it gets golden brown in color. When the porridge is roasted well, add milk to it and cook until it thickens. Stir at regular intervals and cook aptly. Make sure it doesn't stick to the bottom of the wok.
Chop almonds and cashews in small chunks. When milk gets dense in consistency, add roasted gum raisins, chopped almonds, cashews and mix well. Also, add brown sugar. Stir constantly so that milk doesn't stick to the wok.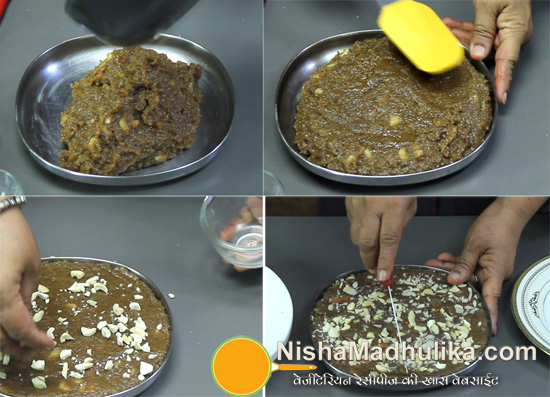 When the mixture thickens, ghee start separating from it, turn off the flame and add nutmeg powder and cardamom powder to it and mix well. Pour the mixture in greased plate and sprinkle chopped almonds and cashews over it.
When the mixture is set, cut it into small barfi chunks. Scrumptious halwasan is ready.
Suggestion:
Set the halwasan like a barfi and then cut into chunks. Allow the halwasan to cool and you can even make ladoo and peda from it.
You can replace the use of normal sugar with brown sugar.
For 12 to 15 halwasan chunks
Time - 60 minutes

Tags
Categories
Halwasan Recipe - Khambati Halwasan Recipe
Nisha Madhulika
Rating:

5.00

out of

5