Shahi Tukra Recipe - How To Make Shahi Tukda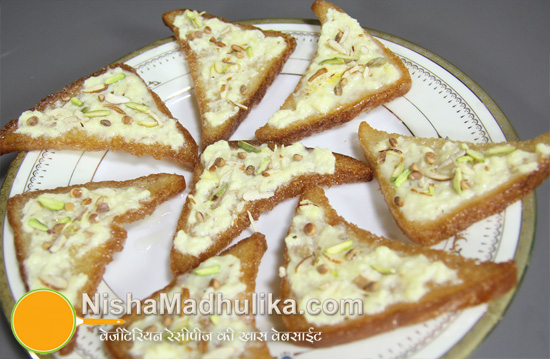 Shahi tudka or double sweet is the best sweet dish to eat. Making this recipe is really easy. Shahi tukda can be prepared at any festival or whenever you feel like eating something sweet.
Read - Shahi Tukra Recipe - How To Make Shahi Tukda Recipe In English
Ingredients for Shahi Tukda
Bread slice - 4
Sugar - 1 cup (200 grams ) (For sugar syrup)
Milk - 500 ml
Sugar - 1 tbsp (for rabdi)
Saffron - 20 to 25 threads
Green cardamom - 4 (peel and ground coarsely)
Chironji - 1 tbsp
Almonds - 4 (thinly sliced)
Pistachios - 8 to 10 (thinly sliced)
Desi ghee - 1/2 cup (100 grams)
How to make Shahi Tukda Recipe
Prepare Sugar Syrup:
Take sugar in any vessel. Add 1/2 cup water into it and place it on flame for cooking syrup. After it simmers once and sugar dissolves completely, cook the syrup for 2 more minutes. Check later. Take 1 t 2 drops of sugar in a plate and stick it between your thumb and forefinger. It should have sticky and gooey texture. Pull apart the syrup to form one thread. Prepare sugar syrup with one thread consistency.
Prepare rabdi:
Take milk in any other vessel with heavy bottom and place it on flame for heating. Allow the milk to simmer on medium flame. When malai starts forming on the surface, collect it in the corner. Cook until milk remains 1/4 from the whole quantity. Turn off the flame now and mix the malai collected at the corner of the vessel. Also add sugar, cardamom powder and rabdi is ready.
For making shahi tukda, cut the bread into two halves, diagonally or in rectangular shape as per your preference. Heat some ghee in a wok. When ghee is medium hot, place 2 to 3 bread slices into it and fry until they golden brown in color. Similarly fry all bread slices.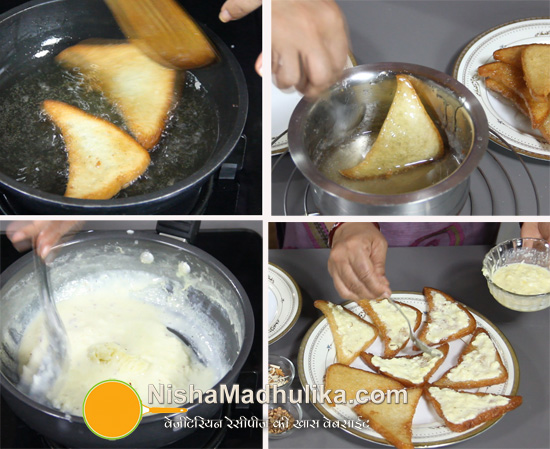 Soak each fried bread slice in sugar syrup for 10 to 15 seconds and then take them out and place on a plate. Dip all the bread slices in sugar syrup.
Place the sugar syrup coated bread slices in a plate one by one and spread 1 to 2 tsp rabdi over each bread slice. Sprinkle some dry fruits, chironji, saffron thread to garnish. Scrumptious shahi tukda is ready, serve and relish eating. Shahi tukda can be stored in refrigerator for up to 2 days.
Suggestion:
If the sugar syrup is thin in consistency then the bread slices will not turn crispy after being soaked in to it. When sugar is too thick in consistency it sets on the surface of the bread.
Don't make rabdi too dense or thin in consistency.
Shahi Tukra Recipe - How To Make Shahi Tukda

Tags
Categories
Shahi Tukra Recipe - How To Make Shahi Tukda
Nisha Madhulika
Rating:

5.00

out of

5