Besan Papdi Besan Papri Recipe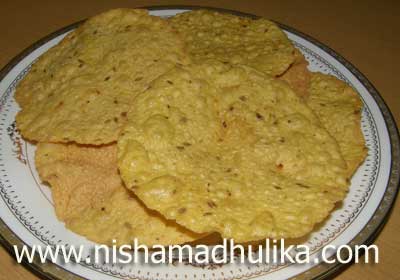 Gram flour papdi is a special dish, which is often prepared in during Holi festival. 
You often serve sweet dishes to your guests during Holi but this gram flour papdi will double the taste of your meals. So, come let's make Gram flour papdi recipe today. 
हिन्दी में पढिये : Besan Papdi Besan Papri Recipe
Ingredients for Besan Papdi
Gram flour - 200 grams (2 cup)
Urad dal flour - 50 grams (1/2 cup)
Refined flour - 50 grams (1/2 cup)
Asafoetida - 2 to 3 pinch (if you have big chunks, dissolve in water first)
Cumin seeds - 1/2 tsp
Salt - as per taste (more than 1/2 tsp)
Baking soda - less than 1/2 tsp
Red chilly powder - less than 1/4 tsp
Black pepper - 1/2 tsp (coarsely grounded)
Oil - 4 tbsp (for kneading dough) and separately for frying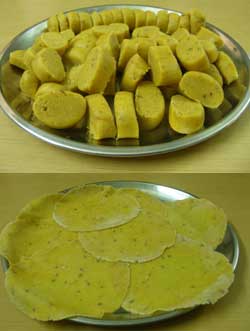 How to make Besan Papdi
Mix urad dal flour and gram flour together and strain with help of a sieve. Also, add asafoetida, salt, cumin seeds, baking soda, red chilly powder, black pepper and oil in the flour. With help of water, knead stiff and tight dough, same as required for making pooris. Cover and keep aside the dough for 1 hour. 
Grease your hands with some and knead the dough again until smooth. Now divide the dough into four parts. Roll out each part into 1 inch thick cylindrical shape. Cut this cylindrical shape dough ball at every 1/2 inch with help of a knife. 
Take one dough ball, place it over rolling pin and roll out into pooris with 2 to 3 inch diameter. With help of dry flour roll out this poori into 4 to 5 inch diameter  Likewise roll each dough ball and place them over a plate. We have rolled each papdi now. 
Take some oil in a wok and place it on flame for heating. Place 1 papdi in hot oil and keep tossing until it turns light brown in color. Hold it with a tong diagonally so that excess oil drains out and then keep it over a plate. Place another papdi in the oil for frying and likewise fry all papdi. 
Allow these tempting salty papdi to cool and then store them in an air tight container. Relish eating for up to a month. 

Tags
Categories
Besan Papdi Besan Papri Recipe
Nisha Madhulika
Rating:

5.00

out of

5