Samo Rice Chakli for Vrat - Farali Chakli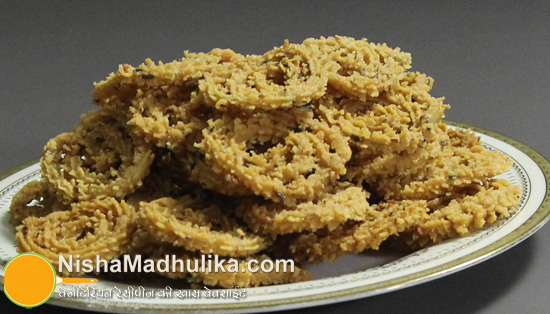 Samvat rice are used for making many recipes during fasts. Chakli prepared with sama rice is as delicious as prepared with plain rice. These chaklis have a longer shelf life too. 
हिन्दी में पढिये : Samo Rice Chakli for Vrat - Farali Chakli
Ingredients for Sama Rice Chakli for Vrat
Samvat rice - 125 grams (3/4 cup)
Cumin seeds - 1/2 tsp
Sendha salt - 1/2 tsp or as per taste
Sesame seeds - 1 tsp
Peppercorns - 1/2 tsp (freshly ground)
Oil - 1 tbsp
Oil - for frying chakli
How to make Farali Chakli with Sama Rice
Wash the samvat rice and soak them in water for 2 hours. After this drain the water and grind them bit coarsely in a mixture grinder without adding water. If required, add 1 or 2 tsp water. 
Place the pan over flame, add rice paste and 1 tsp oil to it. Roast for 1 to 2 minute on medium flame. Stir constantly to roast the paste. Thicken the paste until it gets consistency same as that of dough. 
Take out dough in a bowl and allow it to cool. Now add cumin seeds, sesame seeds, sendha salt, peppercorns and knead the dough until smooth and soft. Dough for making chakli is ready.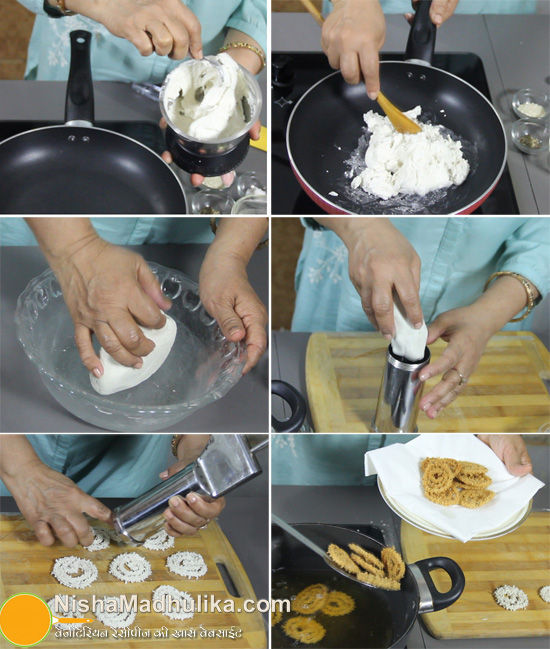 Make Chakli
Make a lump from dough and roll lengthwise. Now place this dough ball into the chakli machine (cookie press). Close the machine. Take a thick polythene sheet and place it over kitchen top. Press the machine and make round chaklis over the polythene sheet. Make 7 to 8 chaklis over the polythene sheet. 
Fry Chaklis
Take oil in a wok and heat. The oil should be medium hot. Lift up the chakli from polythene sheet very gently so that its shape remains intact. Place the chakli in hot oil. Fry the chaklis on medium-high flame. Place as many chaklis as possible in the oil and fry until they turn golden brown in color from all sides. Take them out in plate with absorbent paper. Likewise prepare all chaklis. 
Chakli for fasts is ready. When chakli cools, place them in air tight container and relish eating whenever you want for up to a month. 
Suggestion:
Knead medium soft dough for making chaklis. Make sure dough is not too soft or too tight. If dough is too soft then it will stick very easily and if too hard then it will break quickly. 

Tags
Categories
Samo Rice Chakli for Vrat - Farali Chakli
Nisha Madhulika
Rating:

5.00

out of

5