Sooji Dry Fruits Gujhiya Recipe- Rawa Karanji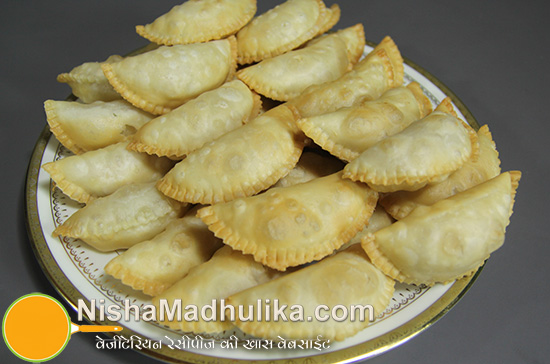 Gujiya prepared with semolina and dry fruits tastes really scrumptious. These gujiyas have longer shelf life then other gujiyas. If mawa is not available, then making gujiyas with semolina is a better option.
हिन्दी में पढिये : Sooji Dry Fruits Gujhiya Recipe- Rawa Karanji
Ingredients for Rava Karanji
Refined flour - 2 cup (250 grams)
Ghee - 1/4 cup (60 grams)
Curd or Milk - 1/4 cup
For stuffing
Semolina - 3/4 cup (150 grams)
Powdered sugar - 3/4 cup
Dry fruits - 1 cup (cashews, walnuts, almonds, raisins)
Green cardamom - 7 to 8
Ghee - for frying gujiyas and roasting semolina
How to make Sooji Dry Fruits Gujhiya
Take flour in any vessel, add ghee and curd in to it. Mix all ingredients really well. Now add water little by little and knead stiff and tight dough, same as required for making pooris. Cover the dough and keep it aside for half an hour.
For making stuffing:
Finely chop all dry fruits. Peel cardamom and make powder. Take 2 tbsp ghee in a wok and heat it sufficiently. Add semolina in ghee and stir it constantly. Roast until semolina turns golden brown in color. After roasting semolina, add chopped dry fruits into it. Roast for 1 to 2 minutes and mix all ingredients. Turn off the flame and keep stirring the semolina. Take out semolina in a bowl and allow it to cool.
Knead the dough again until smooth. Make 25 small dough balls and cover them.
When semolina cools, add powdered sugar and cardamom powder into it. Mixture for stuffing gujiyas is ready.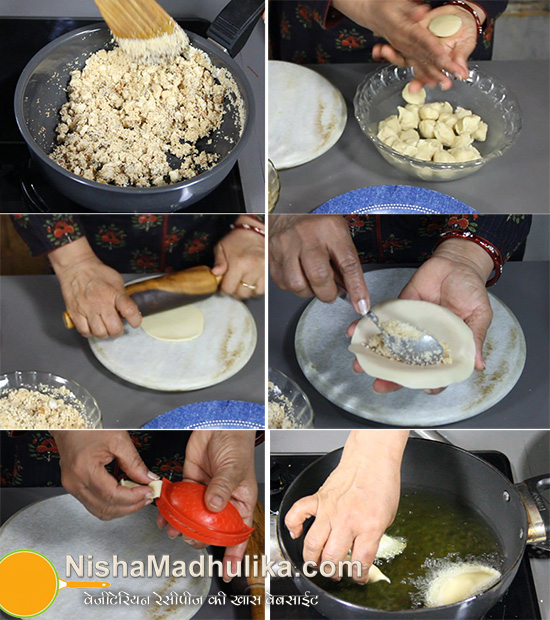 Take one dough ball and roll it out in a poori with 3 to 4 inch diameter. Place the rolled poori in a placed. Roll out at least 10 pooris. Now stuff these pooris for making gujiyas. For this, take one poori, place it over the mold and stuff it with 1 or 1.5 tsp stuffing. Spread some water on the corners. Close the mold, press gently and remove the extra dough from it. Open the mold, take out gujiya and place it over a plate.
Likewise,prepare all gujiyas and place them in a plate. Cover them so that they don't dry.
Fry the Gujiyas:
Take ghee in a wok and heat i sufficiently. Place gujiyas in medium hot ghee and fry on low-medium flame until they turn golden brown in color from both sides. Take out the fried guijyas in a plate with absorbent paper. Likewise fry all gujiyas.
Mouth drooling Gujiyas are ready. Serve these tantalizing and piping hot gujiyas.
Suggestions:
You can use any dry fruit, as per your choice for making the stuffing. You can even increase or decrease the quantity of dry fruits.
Take special note, while stuffing and lifting the gujiyas. Gujiyas should not break or splatter. If any Gujiyas breaks while stufifng, keep it aside and fry in the end. If you fry this gujiyas first, then the stuffing can spill out from it and can be mixed in the ghee. It gets difficult to fry gujiyas in this ghee. You'll need to strain the ghee and then fry rest of the gujiyas.
For 25 to 30 gujiyas
Time - 65 minutes
Sooji Dry Fruits Gujhiya Recipe- Rawa Karanji Recipe Video in Hindi

Tags
Categories
Sooji Dry Fruits Gujhiya Recipe- Rawa Karanji
Nisha Madhulika
Rating:

5.00

out of

5