Dahi Bhalla Recipe - Dahi Vada Recipe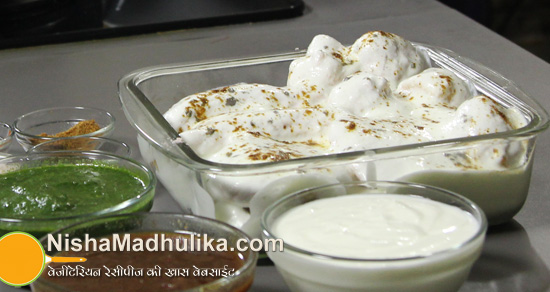 The most liked street food ofNorthern India, Dahi Vada/Dahi Bhalla or Dahi Pakori or Dahi Gujiya, is almost prepared on every festival or special occasions. Here's presenting you a detailed video on making Dahi vada, Dahi pakodi and Dahi gujiya prepared with Urad-Moong dal.
हिन्दी में पढिये : Dahi Bhalla Recipe - Dahi Vada Recipe 
Dahi Bhalla Recipe Ingredients
Urad dal - 1 cup (250 grams) (soaked)
Coconut - 1/4 cup (grated)
Green coriander - 3 to 4 tbsp
Cashews - 7 to 8 (finely chopped)
Black pepper - 1 tsp (crushed)
Ginger - 1 inch (minced)
Asafoetida - 1 inch (minced)
Oil - for frying vada
Roasted Cumin powder - 1 tbsp
Black salt - more than 1 tbsp 
Red chilly powder - 1 tbsp
Mint powder - 1 tbsp
Green coriander chutney
Mango powder sweet chutney
How to make Dahi Vada
Clean urad dal nicely, wash thoroughly and soak it in water for 3 to 4 hours. Drain out excess water from the soaked dal and grind it coarsely with very little or no water in a mixture grinder. 


Take grounded dal in a big bowl and whisk it thoroughly with your hands. 
Prepare the stuffing to fill in the vadas. For this take grated coconut, finely chopped cashews, crushed black pepper, some green coriander and finely chopped ginger in a bowl. Mix everything really well. 
For drenching dahi vadas in water, take some water in any vessel and add asafoetida and salt into it. Mix well. 
Preheat oil in a wok for frying dahi vadas.
For making dahi vadas, take a polythene sheet with 4*6'' dimensions. Place it over a board or rolling plate. Wet the polythene with some water.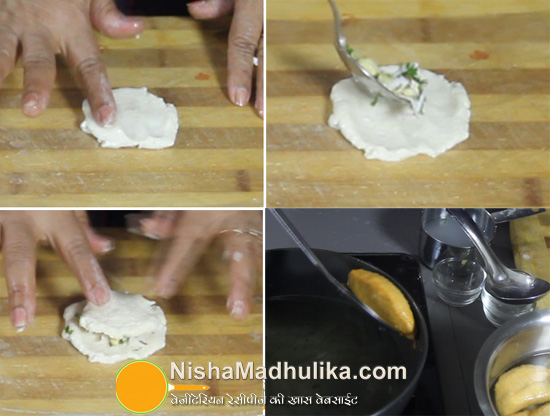 Now with help of your fingers, make a lump from dal mixture and place it over the polythene sheet. Flatten the dal with your hand and place some stuffing over it. Now make another lump from the dal, flatten it slightly and place it over the stuffing, sealing it nicely. Press the dahi vada with your hands, flatten and then give it a round shape. Lift up the vada from polythene sheet very gently and place it in wok for frying. Now fry it on low-medium flame until it gets golden brown in color from all sides. Take out the fried vadas and place them in water with asafoetida and salt. 

Dahi Gujiya
You can even make vadas in gujiya shape. For this, make a big lump (equal to the size of lemon), roll and place it over the polythene sheet. Press it gently with your fingers to flatten. Place 1 tsp stuffing over the half part and fold the polythene from second end, giving it a shape of gujiya. Close the stuffing nicely and place it on oil for frying, very gently. Once fried, place them in water as well.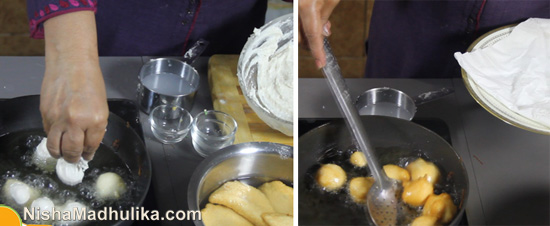 Dahi Pakodi
Likewise, you can also make few vadas in round shape, without stuffing. Dahi pakodi can be prepared very instantly and easily. Add some water in dal, whisk and make small round lumps from the mixture and place them in oil for frying. Fry until they turn golden brown in color. Place them in water as well, once fried. 

Serve Dahi Vadas
Tie curd in a cloth to drain out the water from it. Whisk the thick curd left over cloth, really well. Now add 2 tsp sugar in curd and add some water as well. Mix everything really well. 
Take out dahi vadas from water and squeeze it gently between your palms to drain out the excess water and place them in serving plate. Now pour the whisked curd over dahi vadad and sprinkle some black salt and roasted cumin powder over it. 
For serving the dahi vadas take a plate. Place dahi vadas as per your preference and pour curd over them. Now sprinkle some roasted cumin powder, red chilly powder, black salt, mint powder, green coriander chutney and sweet chutney. Serve these tantalizing dahi vadas and relish eating. 
Suggestion:
Ground the dal with very less or no water. Whisk the dal until it gets fluffy. Take dal in a plate and whisk it with your hands. 
If you wish to serve the dahi vadas immediately, then soak them in water with salt-asafoetida, the moment you take them out from the wok. If you wish to serve them later in any party, then soak them in lukewarm water with salt-asafoetida 2 hours prior using. After 1 hour dahi vadas turn puffy and can be served. 
For 4 members
Time - 90 minutes
Dahi Vada Recipe - North Indian Style Dahi Bhalla Chaat Video in Hindi


Tags
Categories
Dahi Bhalla Recipe - Dahi Vada Recipe
Nisha Madhulika
Rating:

5.00

out of

5