Kathi Roll Vegetarian Recipe - Vegetable Frankie recipe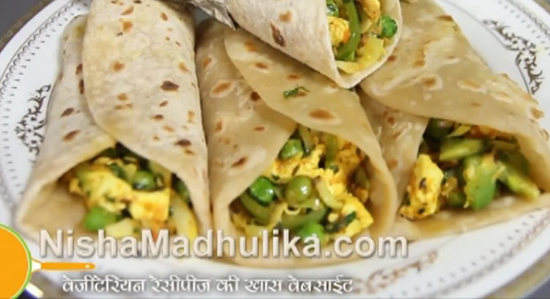 Prepare vegetable Frankie with your favorite vegetables and paneer. Stuff this stuffing in a soft roti or parantha, fold in a special way to serve. Everybody will surely like it.
हिन्दी में पढिये : Kathi Roll Vegetarian Recipe - Vegetable Frankie recipe
Ingredients for Vegetable Frankie recipe
For Dough
Wheat flour - 1 cup
Refined flour - 1 cup
Oil - 2 tbsp
Salt - 1/2 tsp
Desi ghee - 2 to 3 tbsp (for applying over roti or paratha)
For stuffing:
Tomato - 1 (finely chopped)
Capsicum - 1 (finely chopped)
Paneer - 200 grams (small chunks)
Cabbage - 1 cup (finely chopped)
Green peas - 1 cup
Oil - 2 tbsp
Cumin seeds - 1/2 tsp
Asafoetida - 1 pinch
Turmeric powder - 1/4 tsp
Coriander powder - 1 tsp
Green chilly - 1-2 (minced)
Ginger - 1 inch piece (grated)
Green coriander - 2 tbsp (minced)
Red chilly powder - 1/4 tsp
Salt - more than 1/2 tsp (as per taste)
How to make Kathi Roll Vegetarian Recipe
Take wheat flour and refined flour in any big bowl, add salt and oil into it and mix. With help of lukewarm water, knead soft dough (add water little by little). A cup of water has been used for kneading this much quantity of flour. Cover the dough and keep aside for 20 minutes to set. Dough will get puffy. Meanwhile prepare the stuffing.
Add half the amount of oil in a pan. When oil is sufficiently hot, add green peas and saute for 1 to 2 minutes until they get little crunchy. Cover and cook for 1 minute. Take out roasted peas in a bowl. Add cabbage and capsicum in the oil and saute for 1 to 2 minutes. Keep them bit crunchy.
Place rest of the oil in the oil. When oil is sufficiently hot, add cumin seeds, turmeric powder, coriander powder, chopped tomatoes, green chilly, ginger and red chilly powder into it. Stir with a spatula and cook until tomatoes get soft. Now add paneer, salt and roasted vegetables and mix everything really well. Mix green coriander as well. Stuffing is now ready.
Prepare roti:
Preheat a skillet over flame. Take a small lump from the dough (equal to the size of small guava) and roll giving it a round shape first and then flatten (like a peda). Dust the dough ball with some dry flour and place it over rolling board. Now roll it out thinly with 8 to 10 inch diameter roti. Place the rolled roti over tawa. When roti is slightly roasted, flip it and roast from other side. When it gets brown spots, take it off tawa and roast directly on flame. Apply some ghee over the roti and place it over a plate with absorbent paper or aluminium foil. Prepare rest of the rotis, similarly.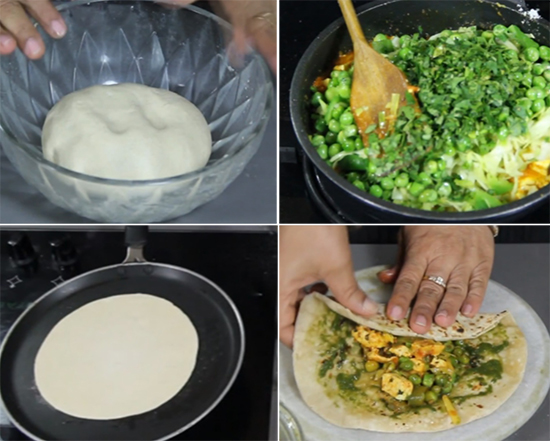 If kids relish eating paranthas, then prepare a parantha instead of roti for them. Roll like a roti but apply some ghee on the parantha and roast until it gets brown spots on both sides. Prepare as many paranthas as required.
Prepare Frankie:
For this, place roti or parantha over a plate and spread chutney or any other you like eating the most. Now place 2 to 3 tbsp stuffing over the roti. Fold from one side first, covering the stuffing and then fold from the other side as well, covering the stuffing completely. Cover the half part with aluminium foil and place it over a plate. You can serve steaming hot rolls like this to kids.
Kids, often don't like eating spicy, so in this case serve them the rolls without applying any chutney. Just place the stuffing, fold and make the frankie. Kids relish eating the tomatoes the most, so layer some tomato sauce over the roti first and then place the stuffing and make frankie. Similarly, prepare parantha frankie.
Suggestion:
You can use any vegetables like beans, cauliflower or carrots or boiled potatoes for making the stuffing. Omit the ones you don't like eating.
Vegetable Frankie recipe Video in Hindi

Tags
Categories
Kathi Roll Vegetarian Recipe - Vegetable Frankie recipe
Nisha Madhulika
Rating:

5.00

out of

5