Rajma - Kidney beans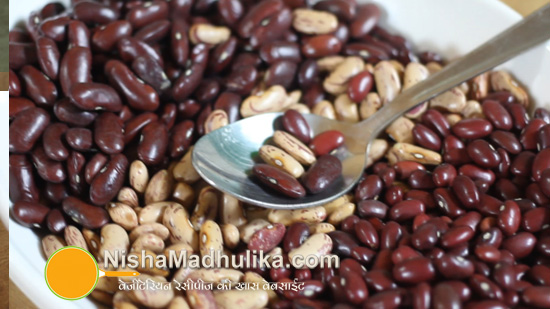 Rajma are popularly known as kidney beans. This unique bean is shaped like a kidney and has a strong flavor with powdery texture. It is dried kidney having reddish brown color. Rajma are known for their strong nutty flavor and musky aroma. Some of the best rajma are said to be grown in grown in Jammu. Rajma is extremely popular and special preparation of Punjabi cuisine, it goes well with rice or what is popularly known as rajma chawal. Rajma beans are fully loaded with amino acids and proteins, in addition to these; it consists of carbohydrates, dietary fiber both soluble and insoluble, fatty acids, and minerals like magnesium, molybdenum, potassium, sodium, copper, iron, phosphorous, and Vitamins such as Vitamin B complex constituents, Vitamin K and other traces of essential vitamins, antioxidants, and minerals.
In Indian market there are three types of rajma:
Red kidney beans
Kashmiri kidney beans
Chitra kidney beans

Red Rajma
They are dark red in color and are highly flavored. These beans hold their shape really well during cooking and absorb flavors easily, they are the favorite beans used for simmered dishes. They are available in small as well as big sizes.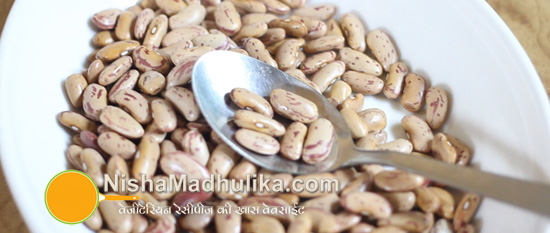 Chitra rajma
It is grown in the foothills of Himalayas. They are known as Chitra or picturesque because of the intricate shading/design on these beans. These beans are very famous and special in Kashmiri cuisine. They better then the regular rajma and very soft texture and more subtle taste. These are white in color.
Kashmiri rajma or Jammu Rajma
They are as famous as Kashmiri mirch is. These small red kidney beans are delicious and cook fast. These beans are famous all over Himalayas and it's foothills for their aroma and subtle taste. Kashmiri rajma come out best when soaked for about 4-5 hours prior to cooking.
Selection of rajma
Kidney beans are easily available in any grocery stores. They can be brought dried or canned with numerous of choices to make in shapes.
Culinary uses:
Boiled rajma are best to use as healthy sprouts or combination with other sprouts and also brought in use for making many types of healthy salads.
Rajma curry is extremely popular dish not only in north India but elsewhere as well.
Kidney beans are versatile beans and are hence used in chilly, refried beans, soups and salads.
Their strong color, robust flavor and meaty texture enhance the flavors and aroma of salads, soups and rich dishes.
It is very important to soak rajma overnight before bringing them into use as this ultimately brings nice aroma to the gravy.
Boiled kidney beans can be used for making variety of rice recipes.
One is to change the water from time to time while you're soaking or cooking the beans. Pouring off the water helps gets rid of the indigestible complex sugars that create gas in your intestine. It also helps to cook the beans thoroughly.
Before you cook them, pick through the beans and remove any stones, broken beans, or other bits of debris.
How to store Rajma
Always make sure that you store dry kidney beans in a dry airtight container at room temperature. Don't store dry beans in refrigerator.
Cooked beans can be stored in refrigerator for up to 5 days and in a air tight container in the freezer for up to six months.
It is best to use beans within one year as they tend to loose their moisture and take longer to soak and cook.
Always remember to sort and rinse beans before cooking.
Benefits to health
Kidney beans are a very good source of cholesterol- lowering fiber.
Soaked rajma helps in removing indigestible complex sugars which are the reason for gas and acidity in the body.
Boiled kidney beans have lots of nutrition's.
High fiber content prevents blood sugar levels from rising too rapidly after a meal.
Kidney beans are an excellent source of folate, dietary fiber and manganese.
Kidney beans are a good source of protein, thiamine (vitamin B1), phosphorus, iron, copper, magnesium, and potassium.

Tags
Categories
Rajma - Kidney beans
Nisha Madhulika
Rating:

5.00

out of

5