Dry Coconut Stuffed Brinjal Recipe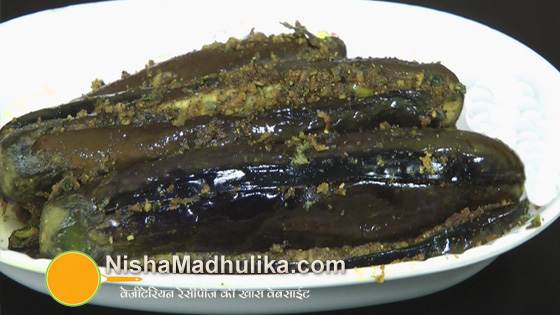 Dry coconut stuffed brinjal is very famous in south India because of its special taste.  Whenever you want to make same special vegetable prepare dry coconut stuffed brinjal vegetable.
Ingredients for Coconut Stuffed Baingn
Brinjal(baigen)  - 6-7 long  (400 gram)
Raw coconut - 1/ 4 cup grated
Green coriander - 2-3  tbsp finely chopped
Oil - 1/4 cup
Green chilies - 2-3 finely chopped
Coriander powder - 1.5 tsp
Salt - 3/4 tsp  (to taste)
Red pepper - 1/4 tsp
Jeera(cumin seeds)- 1/2 tsp
Heeng(asafoetida) - 1/2 pinch
Fenugreek seeds - 1/2 tsp
Rei - 1/2 tsp
Turmeric powder - 1/2 tsp
Aamchur(mango powder) - 1/2 tsp
Ginger - 1 inch piece (grated)
Aardana - 1 tsp
Whit sesame seeds - 1tsp
Urad dal - 1 tsp
Chana dal - 1 tsp
हिन्दी में पढिये - Dry Coconut Stuffed Brinjal Recipe in Hindi
How to make Coconut Stuffed Eggplant
Heat a pan and add urad dal and chana dal and roast slightly,  add cumin seeds, fenugreek seeds and sesame seedsand roast .   Cool the spices and grind them coarsely, also add salt, turmeric powder and coriander powder.
Put the grinned spices in a plate, add heeng powder, aamchur powder, red chilly powder, anardana, ginger, green chilly, coconut and green coriander.  Mix all the spices well.  Stuffing for the eggplant is ready.
Make  2 cuts on brinjal in the same manner shown here.  The stalk should be joined,with this there will be three layers on the brinjal, fill stuffing in them.  Cut all the brinjals and stuff them.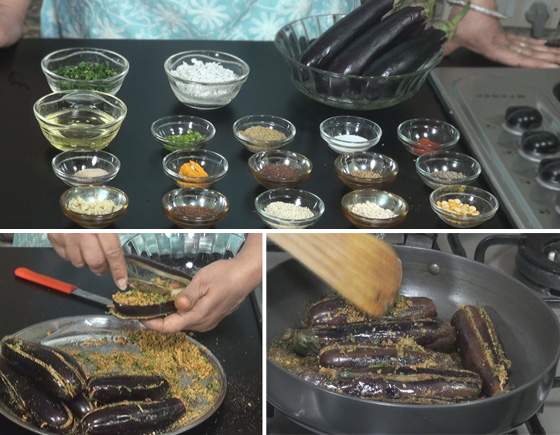 Preheat the pan, put oil in the pan, add the stuffed brinjals in the pan one by one.  Pour the left spices on the brinjals.  Cook for 5 mins on medium flame.
Open the brinjals, with the help of tong turn over the brinjals , cover them and cook for 5 mins.  Open the brinjal and check whether they have become soft.  Brinjals are ready.
Coconut stuffed brinjal's are ready.  Serve with chapatti,parantha and chawal.
Dry Coconut Stuffed Baingan video in Hindi

Tags
Categories
Dry Coconut Stuffed Brinjal Recipe
Nisha Madhulika
Rating:

5.00

out of

5