Cholia Kachori Recipe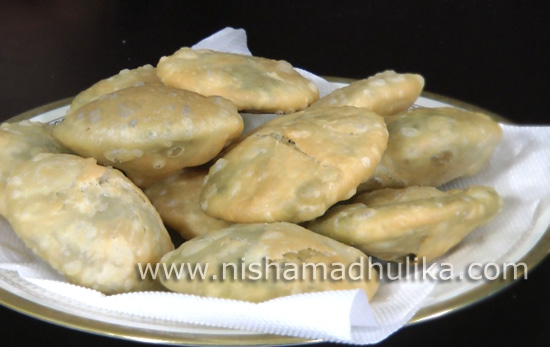 If you make a special breakfast for the weekend the entire will be happy. Today we will be preparing a special Kachori with green chickpeas which is very tasty, so let us make Green Chickpeas Kachori or Cholia Kachori.
Ingredients for Cholia Kachori
Flour - 2 cups
Fresh green chickpea - 1 cup
Green coriander - 2 tbsp (finely chopped)
Ginger - 1 inch piece (grated)
Green chillies - 1 to 2 finely chopped
Saunf powder - ½ tsp
Coriander powder - ½ tsp
Salt - 3/4 teaspoon (or add to taste)
Jeera (cumin seeds) - 1/4 tsp
Heeng (asafoetida) - 1 pinch
Red chilly powder - less than 1/4 tsp
Garam Masala - half of 1/4 tsp
Amchoor (mango) powder - 1/4 tsp
Oil - 1/4 cup to knead flour
Oil - for frying Kachoris
How to make Cholia Kachori
Take flour in a big bowl. Add oil and less than ½ teaspoon salt into the flour, mix thoroughly. Add a little water at regular intervals as you knead the flour similar to soft chapati. Cover the dough and keep aside for 20 minutes, allowing it to ferment. Til then let us prepare the Pitthi with green chickpeas.
Stuffing for Green Chickpea Kachori
Wash the peas and grind to make a coarse paste. Pour 1 tablespoon oil in a pan and heat. Put heeng and jeera in hot oil. Once jeera is roasted, add the ginger paste, green chilly and fry a little. Now add the grinded green chickpeas followed by salt, coriander powder, saunf powder, aamchur powder powder, garam masala, and red chilly powder. Fry all the ingredients as you mix them for 3-4 minutes. Pitthi is ready.
By now the dough must have fermented. Break smal pieces (small lemon sized) from the dough. We have made 11 balls from this amount of dough. Pick one ball and expand it a little with of your fingers. Place 1 tsp of filling on the piece of dough then wrap it up properly from all sides. Similarly prepare all the Kachoris.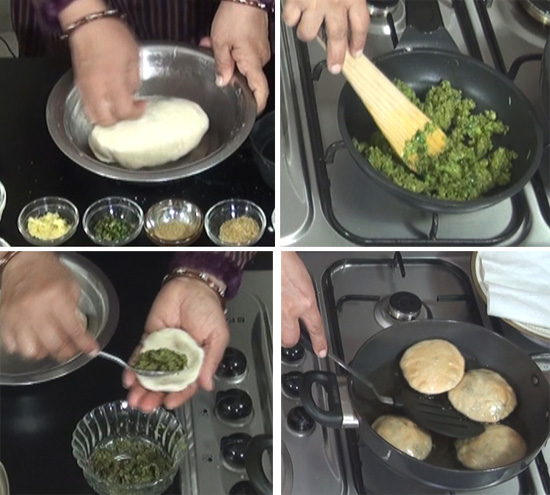 Pour oil in a pan to heat, expand the stuffed Kachoris with your hand into 2-3 inches in diameter. Even when the oil is less hot, put 3-4 or as many Kachoris that fit in the pan. Fry Kachoris on a low flame till they turn bown on both sides then take them out. Similarly fry all of the Kachoris.
Leave the Kachoris in open air, till they are completely cooled. Serve Green Chikpeas Kachoris with green coriander chutney and sweet chutney. Green Chikpeas Kachoris can be kept and eaten upto 4 days.

Tags
Categories
Cholia Kachori Recipe
Nisha Madhulika
Rating:

5.00

out of

5