Palak Curry - Spinach Curry Recipe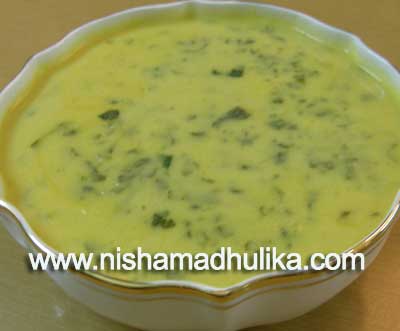 Spinach is rich in iron and minerals. Palak curry takes great during the evenings. Let's make the Palak Curry.
Ingredients for Palak Curry Recipe
Palak – 350 gm
Gram flour – 100 gm
Curd – 100 gm
Oil – 1 tablespoon
Asafetida – 1 to 2 pinch
Cumin Seed - ¼ small spoon
Turmeric Powder - ¼ small spoon
Green Chili – 3 to 4 (cut finely)
Red Chili - ¼ small spoon
Salt - ¾ small spoon (as per taste)
Coriander – 1 tablespoon (cut finely)
How to make Palak Curry
Break the spinach stems and wash the leaves twice in clean water. Filter out the excess water or keep them in a tilted plate.
Cut the spinach leaves finely with a chopping blade or with a knife.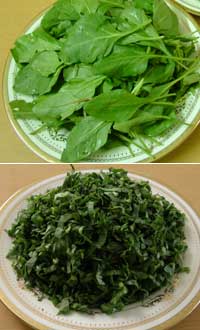 Mix gram flour in the stirred curd. There should not be any lumps in this solution. Now make this solution thinner by adding 750 gm water.
Put oil in a frying pan and heat it. Fry asafetida and cumin seed till it turns brown and then add turmeric powder and green chili. Stir the masala 1 or 2 times with the stirring spoon and mix the cut spinach leaves. Add 1 small bowl of water and cover the frying pan. Let it boil on low flame for 6 to 7 minutes.
Remove the cover from the frying pan. Add the gram flour solution to the spinach and cook on high flame, while stirring. When the vegetable preparation starts boiling, stop stirring and lower the flame. Mix salt and red pepper. Now cook for about 10 minutes on the low flame and keep stirring at small intervals (so that the vegetables don't stick to the bottom of the frying pan).
Take out the vegetable preparation in a bowl and garnish with coriander. The delicious Palak Curry is now ready to serve and eat along with chapati, naan, parathe or rice.
Read this Recipe in Hindi

Tags
Categories
Palak Curry - Spinach Curry Recipe
Nisha Madhulika
Rating:

5.00

out of

5