Moong Dal Halwa Recipe, Rajasthani Moong Dal Halwa Recipe, Moong Dal Ka Halva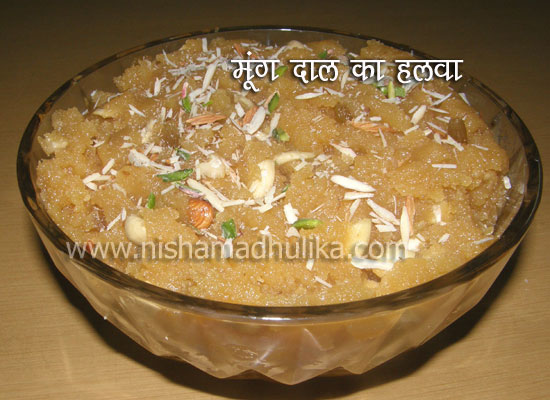 Moong Dal Halwa is a Rajasthani North Indian sweet, usually prepared in winters. It's very appetizing and tastes great during cold winter evenings. Let's prepare the Moong Dal Halwa.
इस पोस्ट को हिन्दी में पढ़ें
हलवा - मूंग की दाल का
Ingredients for Moong Dal Halwa
Moong - 100 gm
Ghee - 100 gm
Mawa (Khoya) - 50 gm
Sugar - 150 gm
Cashew Nuts - 20 (Cut each cashew into 4 pieces)
Dried Raisins - 20
Cardamom - 4 (Peeled and grinded)
Almonds - 5 (Cut them length wise into small pieces)
How to make Moong Dal Halva
Wash the moong dal and soak it in water for 4 to 5 hours.
Take out the moong dal from water and grind it, without water. Don't grind it too fine. Heat the frying pan and put ghee and moong dal in the frying pan, then stir with the frying spoon, on medium flame. In 15 to 20 minutes moong dal will be properly cooked (The properly cooked moong dal doesn't stick to the frying pan and you can see the ghee getting separated from moong dal). Moong dal is cooked now.
Put Mawa (khoya) in a separate frying pan and cook on low flame. Then mix it in the moong dal.
Put 100 gm sugar and water in a utensil and heat it. When the water starts boiling cook for another 5 minutes on low flame, and prepare a wire like syrup.
Mix this syrup in the moong dal, along with cashew nuts and raisins. Now stir this halwa on low flame. In about 5 to 7 minutes halwa will be ready. Now turn off the burner. Mix the grinded cardamoms in the halwa. Your halwa is ready.
Take out the halwa in a bowl and garnish it with almonds. You can serve and eat this piping hot, great tasting halwa.
Moong Dal Halwa Recipe video in Hindi

Tags
Categories
Moong Dal Halwa Recipe, Rajasthani Moong Dal Halwa Recipe, Moong Dal Ka Halva
Nisha Madhulika
Rating:

5.00

out of

5