How to make Gulab Jal at home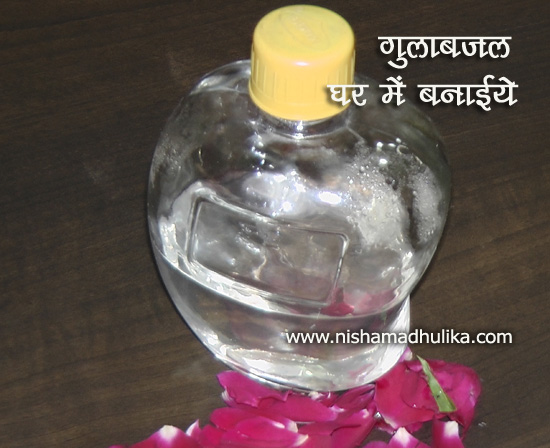 Rose Water is used to make many kind of juices and food. It is even use in Ayurveda to make medicines. It is very easy to buy Rose water from the market and use it. But if someday it is not available and you are in urgent need of it, then even you can make rose water at home.
Ingredients for Gulab Jal - Rose Water
Rose Petals - 1 cup (around 15 flowers)
Water - 2 cup
Ice - 1 tray
Method - How to make Rose Water at home
Take a big bowl having enough space, so that one more bowl can be placed  inside it and be covered properly.
Place a rim in the bowl, and put rose petals, water in it. The bowl in which you want to collect the rose water, keep it over the rim. Place the lid in a way that the steam do not come out, and instead gets collected inside the bowl.
Now place this bowl on the stove, once the water gets heated put some ice cubes on the lid of the bowl. When the water gets heated up, the steam rises above and gets collected at the inside top of the lid, but when you put ice on the upper surface of the lid the steam water cools down and starts collecting in the bowl.  In 20-25 minutes 1 cup of rose water gets collected into the bowl. Now turn off the flame.
Let the vessel cool down, and open the lid. The water collected inside the bowl is the home made Rose Water prepared by you. Store it in a clean dry pot.
Alternative Ways:
Earlier the attachment to make espresso coffee use to come along with the cooker. If you have it. then you can make Rose Water by putting the petals and water into the cooker and wrapping a wet cloth on the espresso coffee attachment.
You can also make Rose Water by replacing the cooker whistle with a long rubber tube . Wrap this tube with a wet cloth and keep a bowl at the end point of the tube to collect the rose water in it. The steam of rose and water forming inside the cooker, will get collected into the bowl through rubber tube.
In this way you can make the Rose Water at your home only.
Precautions:
You should take care that the water inside the bowl filled with rose petals and water should not flow over the rim. else it will lose its balance.
Tags
Categories
How to make Gulab Jal at home
Nisha Madhulika
Rating:

3.07

out of

5