Chandiya Recipe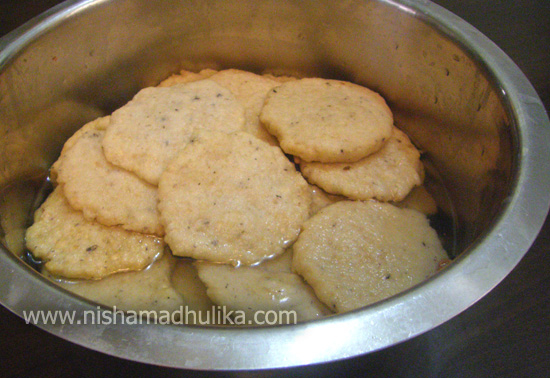 Chandiya is usually prepared post any festival or in marriages after when the bride enters the house. Chandiya can be made when you want to make some special for your family which is not much sweet in taste and yet desirable.
Chandiya is made with chilka urad dal or dhuli urad dal. But chandiya made with chilka urad dal is tastier. Lets start making Chandiya today.
इस रेसीपी को हिन्दी में पढिये - Chandiya Recipe in Hindi
Ingredientas to make Chandiya
Chilka Urad Dal - 250 gms. (2 cup)
Salt - 1 tea spoon or according to the taste
Heeng - 1/6 tea spoon
Oil - to fry chandiya.
Method - How to make Chandiya
Wash Urad dal and soak it for 4 hours in the water.
How to peel the urad dal: Take a deep pan, rub the dal well with hands and pour water in the pan. Shake the pan a little and you will see that the skin of the dal will float over the water. Tilt the pan a little and strain the water so all the skin of the dal gets strained away with the water.  You can also use a strainer so that the dal do not fall away with the skin. Strain away the skin and collect it in another bowl. Now again rub the dal with the hands, pour water in the pan, shake the pan, let the skin float upwards and strain the water. This way the dal in the pan will clear out and all the skin will strain away with water.



Grind the soaked dal without water, put it into a pan and whisk it well. You will be able to make 20-25 chandiya with this quantity of dal.
Take 1 ltr water in a big pan and put salt and heeng into it. This water is used to dip chandiya into it.
Take a pan and heat oil into it.  Take a small bowl and cover it with a handkerchief or a clean cloth. Tighten the cloth by pulling it hard from the corners. Take some water in an another small bowl.



Wet the cloth with a little water, put some whisked urad dal over the cloth, dip your finger in the water and spread the mixture with the help of the finger into a thin flat disc. Spread chandiya into 2 1/2 circular shape or equivalent to the shape of the bowl. Now with the help of your fingers put chandiya in your palms and put it into heated oil. Prepare all the chandiya in the same manner.
Fry the chandiya till it gets light brown in colour. Put the  fried chandiya into salt water. On the other hand prepare more chandiya by frying it in the pan till it turns light brown in colour and put them also in the salt water.  Repeat the steps with all the other chandiya.
When chandiya rises in the salt water and becomes tender, take them out and serve them by sprinkling chat masala and with chutney.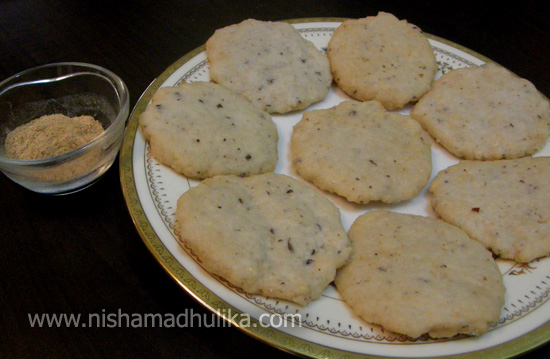 Tags
Categories
Chandiya Recipe
Nisha Madhulika
Rating:

5.00

out of

5