How to Preserve Green Peas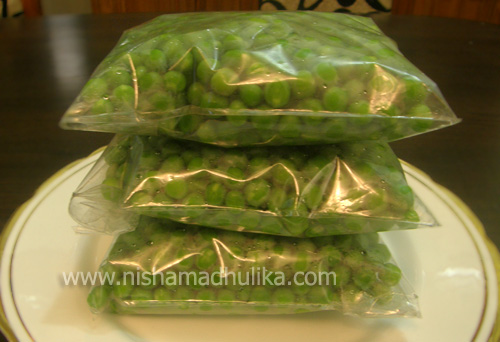 Almost everyone is fond of Peas and vegetables made from it. Peas is not only good in taste, but is also have high nutritious value. It consists of Protein, Carbohydrate in appropriate quantity and Vitamin-B in huge quantity. Infact, Vitamins, Minerals and Fiber etc are also found in Peas.
इस रेसीपी को हिन्दी में पढिये - How to Preserve Green Peas
Ingredients for How to Preserve Green Peas
Green peas - 700 grams
Sugar - 2 tsp
How To Store Green Peas
We need fresh, tender and god quality Peas for preservation. Wash them twice and strain any excess water.
Take water in any vessel and place it on flame for simmering. When the water starts boiling, add sugar to it. After this, place the green peas into it and keep them drench in water for complete 2 minutes. After this turn off the flame and strain the peas through a sieve to remove excess water.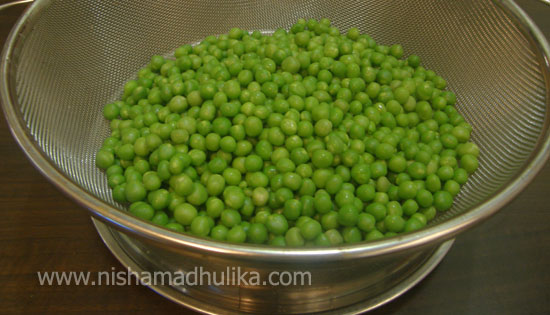 Take chilled water in another vessel and place these green peas into it. When the peas cool down, strain the peas again through a sieve and remove the excess water. Fill up these green peas in small polythene bags and place them in refrigerator.
These preserved peas remain fresh for long. So, here you have green peas stored in your deep freezer, use them whenever you want. 
Suggestion:
Storing peas in one bag for using at once is more convenient. 
Sugar is used to add nice green color an sweetness to the green peas. 
Keep the peas drenched in boiling water for just 2 minutes. Don't keep them for too less or too long time.
You can take chilled water from refrigerator or add some ice to the normal water.
You can also use containers instead of packets but it is more convenient to store the peas in packets and take less space in freezer.
Take normal polythene bags and seal using a tape or a rubber band. 
This way you can also store broccoli, beans and so on.
How To Store Green Peas For Months - How to Preserve Green Peas


Tags
Categories
How to Preserve Green Peas
Nisha Madhulika
Rating:

5.00

out of

5