How to make Roti? How to make Chapati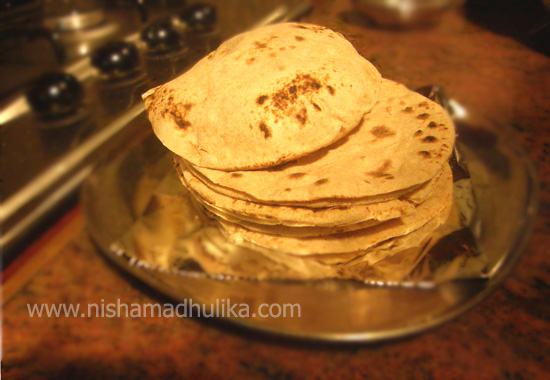 Roti can be prepared from different types of flour: Wheat flour, cornflour, millet(bajra) flour, mixed flour(made from 6-7 types of flour). Roti prepared from mixed flour is more nutritious. Cornflour, millet flour,  sorghum(jwar) flour have a coarse texture(they are less sticky). It is not easy to roll roti made from these flours with a rolling pin. We have to soften the dough prepared from these flours inch by inch, break pieces off it and roll into balls. Then wet your hands and expand the chapatis by pressing. Chapati made with hands are tasty and crisp. They are a bit heavy for digestion. One has to practice a lot to prepare this Chapati. If some wheat flour is added to this granular mix of flours then you can roll delicious Chapatis with much ease.
We usually use wheat flour to prepare Roti in our homes.
हिन्दी में पढिये : How to make Roti(chapati)?
Should we filter the flour to use it or not?
Some people believe that flour should not be filtered to preserve the fiber so that it can be eaten along with the food. While some believe that flour has to be filtered. Depending on the purity of the available flour you can decide if it should be filtered or not. Packet flour can be used without filtering, while its better to filter flour grounded in a mill.
Do we have to knead a hard or soft dough?How much water is needed for preparing the dough?
Soft dough is required for Roti, Naan or Parantha. Roti prepared with soft dough does not turn hard even if it cools down. Whereas Roti made from hard dough does not taste good when cooled. It is important to keep in mind the amount of water required while kneading wheat flour for Roti. Eg: if you use 2 cups of flour then take 1 cup of water to knead..
How to make dough for roti
Ingredients required for Roti:
Wheat flour- 250 grams (2 cup)
Water -1 cup
Salt - 1/2 tsp
Oil - 1-2 tsp
Filter flour and keep it in a deep plate or big bowl. Add salt and oil to flour.
Use your hand(left hand) to pour warm water to the flour and knead with the right hand. Do not pour too much water at once, mix flour properly. Press the dough and turn it over several times with your right hand(do not knead a very hard and thin dough).  When the dough seems same throughout, knead it and if needed sprinkle 2-3 tsp water on it, then cover and keep aside for 20-25 minutes.
20 minutes later collect the dough, press it many times and make it soft as well as smooth.  You can also apply some oil on your hand then knead the dough to make it smooth. Continue to knead the dough till its upper layer turns smooth and a stretchy texture is obtained. If you knead the dough well then it does not stick much when you prepare the Roti and you can put it in dry flour and roll. When the dough turns smooth and soft keep it aside on a plate. The dough is ready to prepare Chapati.
How to make Chapati
Place Tawa on the gas to heat, break a piece big as a lemon off the dough and roll it into a ball with your hands. Wrap the ball in dry flour, dust off excess dry flour(excess dry flour should not be put on the ball).
Place the ball wrapped with dry flour on a board and flatten into a circle 2-3 inches in diameter with a rolling pin. Make a uniform circle with the rolling pin. Wrap this rolled Chapati again in dry flour, dust off extra dry flour.
Place the Chapati wrapped in dry flour on a board and roll it into a round Chapati 5-7 inches in diameter. One has to practice to make a round Chapati with even thickness. Apply equal pressure while rolling the Roti, do not exert lots of pressure. Else Roti will be thin on some parts and wont get puffed.
Place the rolled Chapati on heated Tawa. When its lower layer is slightly cooked and the upper layer becomes a bit dark in colour, change sides. Cook the other side till brown spots appear.
Chapati can also be placed directly on the Tawa:- To cook Roti on a Tawa, turn it over when spots appear on the other side. Now use a cloth or ladle to press it over the Roti and cook.
Tawa can also be removed and Roti can be cooked directly on the gas- To cook on the gas remove the Roti from the Tawa.  Place the Roti with its first side marked with spots on the gas directly and move it around using tongs. Cook Roti till dark spots are visible. Do keep it mind to cook the Roti only till the spots are brown and not black. Keep Roti aside on a plate. Hold the Chapati and move it around with a pair of tongs till brown spots are seen. Chapiti will turn puffy. Never catch a puffed Chapati with your hand, the steam coming from it may burn your hand.
 Puffed Chapati indicates proper cooking, cook till light spots are visible on it.If you are serving hot Chapatis to someone then you can cook till the spots get darker. It means you can serve also crispy Chapatis. It feels nice to eat Chapatis with heated Ghee spread on it instantly. But hard cooked Chapatis eaten later do not taste good.
Cook Chapati and keep it in a casserole. Repeat tis process with the other Chapatis. Apply little(less than 1/4 tsp) Desi Ghee on both Chapatis. Keep Ghee laden Chapatis in the casserole. Eat hot Chapatis without Ghee, while Ghee laden Chapatis stored in the casserole are soft to eat even after 5-6 hours or more.
Do not keep hot and steamy Rotis in the casserole as the steam makes them soggy. First allow steam to escape from the Rotis.
Place a paper, foil or cloth on the inner base of the casserole then put in the Rotis. They can also be wrapped in a cloth and kept.
Use warm water to knead the dough. This makes the dough more soft as well as the Roti..
For a usage of 2 days, dough can be prepared and kept in the fridge. This helps in using the dough when needed. To store dough in the fridge apply some oil and make it smooth. Then keep dough in closed container and it stays fresh.
How to make Roti video in Hindi


Tags
Categories
How to make Roti? How to make Chapati
Nisha Madhulika
Rating:

5.00

out of

5