Baghare Baingan Recipe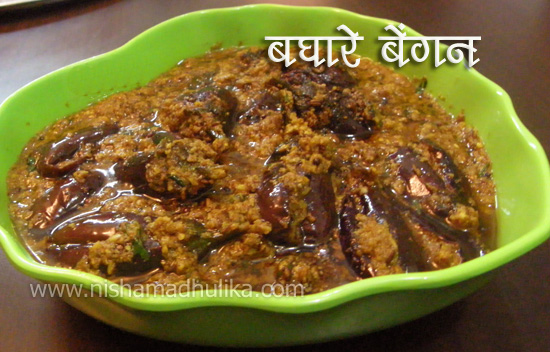 You must be fond of Brinjal recipe, but Hyderabadi Bagare Brinjal has its unique taste with a blend of peanuts, coconut and while masala mixed together to make a gravy. So lets make Bagara Brinjal Recipe today.
इस रेसीपी को हिन्दी में पढिये - Bghare Baingan Recipe in Hindi
Ingredients for Bagara Baingan
Brinjal - 250 gms (small sized 7-8)
Peanuts - 2 table spoon (roasted and peeled)
Sesame - 2 table spoon.
Dry coconut - 2 table spoon (grated)
Coriander seed - 1 table spoon.
Cumin seeds - 1 tea spoon.
Ginger - 1 inch long piece (or 1 tea spoon paste)
Green chilli - 2-3
Mustard seeds - 1 tea spoon.
Heeng - 1 pinch.
Curry leaves - 8-10
Turmeric powder - 1/2 tea spoon.
Imli paste - 1 table spoon.
Salt - 1 tea spoon (or according to the taste)
Red chilli powder - 1/4 tea spoon.
Sugar - 1/2 tea spoon.
Coriander leaves - 1 table spoon (chopped)
Oil - 4-5 table spoon.
Method - How to make Baghare Brinjal Recipe.
Take small brinjals without seeds. Wash them thoroughly and cut it from the base in a way that it remains joined from the side of the stem. Take 1/2 tea spoon salt and apply on each brinjal. leave them for 10-12 minutes.
Peel the ginger, wash it and cut into big pieces. Break the stems of the green chilli.



Roast the sesame into the oil along with cumin seeds and coriander seeds.
Now take roasted sesame, cumin seeds, coriander, coconut, peanut, ginger and green chilli and grind them with little water or no water.
Heat oil in a pan. Stain the extracted water from the brinjal and put 2-3 brinjal into the oil. Fry the brinjal into the oil until it becomes tender. Take out the brinjal from the pan and keep it on a plate. Fry the other ones in the same manner.
Tamper heeng and mustard seeds in the remaining oil. Once the mustard seeds splutters , add curry leaves into it along with turmeric powder and ground masala. Roast the masala until it turns brown in colour  and leaves fragrance. Put red chilli powder, salt, imli paste, and sugar into the roasted masala. Pour 1-2 cup water into the pan and let it boil. Once the water starts to boil, put fried brinjal into the pan and cook it for 5-6 minutes so that the masala fills into each brinjal.
Baghare Brinjal is ready. Take out the dish in a serving bowl and garnish with coriander leaves. You can put the tampering over the recipe while serving. Take 1 table spoon oil, heat it and put mustard seeds. Turn off the stove and put 2 pinch red chilli powder into it. Pour the tampering over the recipe and serve it hot with chapatis, paranthas and naan.
Baghare Baingan Recipe video


Tags
Categories
Baghare Baingan Recipe
Nisha Madhulika
Rating:

5.00

out of

5