Gujarati Methi Dhebra Recipe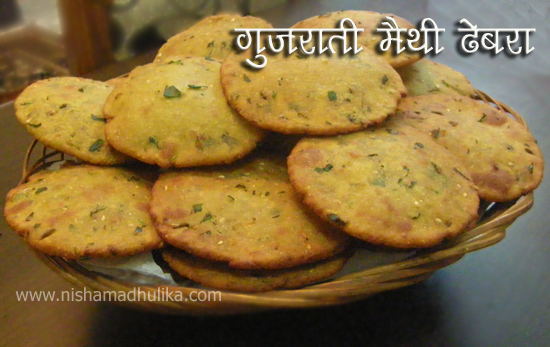 Dhebra can be prepared either by frying in a Kadhai (like puri) or on a Tawa (like parantha). Whichever seems easier you can follow that particular method to prepare Gujarati Methi Dhebra.
Green Methi(Fenugreek leaves) and Bajra(millet) flour is available in the market during winters. If you can not find green Methi then you can replace it with Kasoori Methi. Do make this appetizing dish this winter season.
हिन्दी में पढिये - Gujarati Methi Dhebra Recipe
Ingredients for Gujarati Methi Dhebra
Bajra flour- 250 grams(2 cup)
Wheat flour - 175 grams (1.5 cup)
Suji(semolina) - 100 grams ( 3/4 cup)
Cornflour - 50 grams (1/3 cup)
Green Methi leaves - 2 cup
Til(sesame seeds) - 1 tbsp
Jeera(cumin) - 1/2 tsp
Sour curd - 200 grams (1 cup)
Gur(jaggery) - 1 tsp
Salt - add to taste (1 tsp)
Green chilli - 2
Ginger- 1 inch long piece
Red chilli powder - less than 1/4 tsp
Turmeric powder - less than 1/4 tsp
Oil - to fry Dhebra
- How to make Gujarati Methi Dhebra
Filter Bajra flour, wheat flour, Suji , cornflour and keep it aside in a utensil.
Wash Methi leaves and chop them finely after removing water. Break off the stem from the green chillies, wash them remove their seeds and chop into small pieces. Mix Gur in curd and blend well.

Make a crater in the middle of the flour, put Gur mixed with curd, 1 tbsp oil and all the spices. Mix all the ingredients properly and with the help of water knead a dough similar to that of a puri. Cover the dough and leave it aside for 30 minutes.
After 30 minutes press the dough well and make a good dough. Now break of small pieces(lemon sized) from the dough and keep aside.

Pour oil in a pan and heat. Take one piece of dough, using oil or dry flour roll into a little thick puri , 3 inches in diameter. Now put the puri in hot oil , pres it with a ladle to make Dhebra puffy. Fry till both sides turn brown. Place the fried Dhebra on a plate covered with a paper napkin. Repeat with the other Dhebra. You can fry 2-3 Dhebra at a time in the pan.

To cook Dhebra on a Tawa, place Tawa on gas and heat it. Break off pieces from the dough and roll into balls. Flatten these into a circle 5-6 inches in diameter(using dry flour/oil), thin as parantha. Place the rolled Dhebra on the heated Tawa and cook it by applying oil till both sides turn brown. Now place Dhebra on a plate and keep it in a casserole after it cools off.
Serve Dhebra with pickle or Chutney. You can also prepare Aloo Matar with Dhebra as the two taste delicious together.
Dhebra can be stored in the fridge and eaten for 5-6 days. Take out Gujarati Methi Dhebra from the fridge, heat it and eat.
Serves - 4 to 5
Cooking time - 1 hour
Methi Dhebra Recipe

Tags
Categories
Gujarati Methi Dhebra Recipe
Nisha Madhulika
Rating:

5.00

out of

5