How to Make Chyawanprash? - Homemade Chyavanprash Recipe | Chayawanprash Ingredients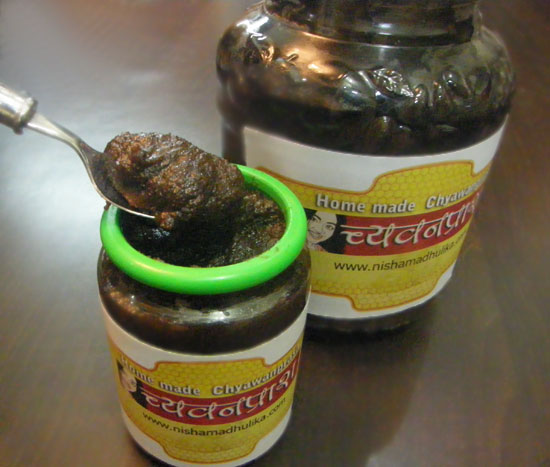 Chaywanprash is the largest selling Ayurvedic health product, and it is also one of the most beneficial ones. We make Chayawanprash at home. Here's how you can make it in your home. Here's the Chaywanprash recipe.
इस रेसीपी को हिन्दी में पढिये - Chyawanprash recipe in Hindi - How to make Chyawanprash
Chyawanprash Ingredients
The major ingredient of Chyawanprash is Indian Gooseberry or Amla as it's known here. There are 40 other important herbs which can be bought from any Ayurvedic herbs seller. If a particular ingredient or herb is not available, don't worry, make Chyawanprash with what's available. You'll still enjoy the goodness.
Most of the ingredients of Chyawanprash are not particularly expensive. Kesar (saffron) is the most expensive ingredient. Chyawanprash ingredients are classified into 5 groups.
Chyawanprash Ingredients - Pradhan Ingredient
Amla - 5 Kgs.


Chyawanprash Ingredients - Sansadhan Ingredients
Bidrikand, Safed Chandan, Vasaka, Akarkara, Shatavari, Brahmi, Bilva, Choti Harr (Haritaki), Kamal Kesar, Jatamansi, Gokhru, Bel, Kachoor, Nagarmotha, Laung, Pushkarmoola, Kakadsinghi, Dashamoola, Jiwanti, Punarnava, Anjeer, Ashwagandha, Giloya, Tulsi leaves (Basil), Meetha Neem, Saunth, Munakka, Mulethi
All of these ingredients must be taken in equal quantity - 50 grams.

Chyawanprash Ingredients - Yamak Ingredients
Clarified Butter (Ghee) - 250 gms, Til (Sesame seeds oil) - 250 gms
Chyawanparsh Ingredients - Samvahak Ingredient
Sugar - 3 Kgs
Chyawanprash Ingredients - Prekshap Ingredient
Pippali - 100 gms, Banshlochan - 150 gms, Dalchini - 50 gms, Tejpatra - 20 gms, Nagakesar - 20 gms, Choti Ilaichi (small Cardamom) - 20 gms, Kesar - 2 gms, Shahad (Honey) - 250 gms
Method - How to Make Chyavanprash
Wash the Amlas, and bind them in a cloth tightly forming a bundle.


Fill a big container with around 12 litres of water. Put the Sansadhan ingredients in the water and drop in the Amla cloth bundle. Keep the container on high-flame till the water starts boiling. Then bring the stove to low-flame. Let the Amlas and the herbs boil on low flame for 1 to 1.5 hours. When the Amlas become absolutely soft, turn off the flame and set the container aside to rest overnight, or for 10-12 hours. Cover the container when you put it away.
We didn't have a large enough container in our home, so we divided the ingredients into two batches and boiled them. You can divide similarly into batches if you don't have a large enough container.


When you take out the Amla cloth bundle after the specified duration you will find that the Amlas have turned blackish in color.This means that they have absorbed the juice from herbs well. Now separate the Amla seeds from the fruit.
sieve the remnant herbs from the container and keep the water safe in a container. This holds many nutrients and herbs and we will need it to make the Chyavanprash.


Now use a mixer to grind the Amlas. Grind them fine till they take a paste like consistency. Then sieve this mixture into a container using a large sieve with fine holes. You might need a ladle to press the mixture through the sieve. Sieve all the paste in a similar fashion. This will separate the fibre from the Amlas. We shouldn't leave any fibre in the paste to make good quality Chyawanprash. In pre-modern times a cotton cloth was used to sieve the Amlas, but this was a very labor intensive exercise and took a lot of time.
Add the water you had saved after extracting the herbs from it to this paste. This will be our Chyavanprash. Use a large iron wok/kadhai (no stainless steel please!) to heat this paste. Heat the oil in the wok and add the ghee when the oil is already hot. Wait till the ghee melts then add our pulp and keep stirring with a ladle. Once this mixture starts boiling add sugar and keep stirring till the entire mixture becomes thick in consistency. You may need to cook this in two batches according to the size of your wok. We didn't have a large wok so we cooked our Chyawanprash in two batches.
When the mixture is really thick, set it away from the flame and cover it. Keep it for another 5-6 hours. After that you may put it in a stainless steel vessel.



Now take out the Prekshap ingredients we had. Peel the choti ilaichi and add banshlochan, dalchini, tejpatta, and nagkesar. Grind them fine in an electric grinder. Be careful not to open the cover of the grinder immediately after grinding because pippali and the banshlochan particles will make you sneeze. Wait a minute to let them settle down.
Now add honey and kesar to this and mix them well to our chaywanprash paste. Your homemade chyawanprash is ready.
Store the chyawanprash in an air-tight container made of glass or plastic. You can use this the entire year.
Don't forget to share with your friends and family!.
Related Recipes

Tags
Categories
How to Make Chyawanprash? - Homemade Chyavanprash Recipe | Chayawanprash Ingredients
Nisha Madhulika
Rating:

5.00

out of

5