Mixed Vegetable fry with Palak Recipe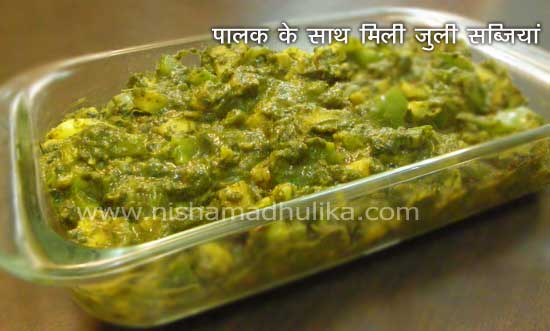 Whenever we get 2-3 vegetables at once then we always feel like making all of them at once. This is the time when preparing Mixed Veg comes to our rescue..
You will also like Mixed Veg along with Palak(spinach). To prepare vegetables mixed with spinach choose the vegetables you like, fry them in oil and spices and serve with spinach wrapped all over. This is done so that the taste of spinach is separated from the taste of the mixed vegetables.
हिन्दी में पढिये - Mixed Vegetable fry with Palak Recipe
- Ingredients for Mixed Vegetable fry with Palak
Spinach(Palak) - 500 grams
Cauliflower - 300 grams
Raw Banana - 250 grams
Capsicum - 2
Tomatoes - 4
Green chillies - 2
Ginger - 1 inch long piece
Oil - 2 tbsp
Heeng(asafoetida) - 1 pinch
Jeera(cumin seeds) - 1/2 tsp
Black pepper - 6
Cloves - 3.
Cinnamon - 1 small piece
Elaichi(cardamom) - 2
Turmeric powder - 1/2 tsp
Coriander(dhaniya) powder - 1 tsp
Sugar - 1/2 tsp
Cashew nuts - 10 to 12 (cut 1 nut into 2 length wise)
Raisins - 15 (remove stems)
Salt - add to taste (3/4 tsp)
Red chilly powder - less than 1/4 tsp(if you prefer spicy)
- How to make Mixed Vegetable fry with Palak
Break the leaves and stems off the spinach, clean, wash twice with water and place it in a strainer or vertically on a plate to drain out the water.
Cut cauliflower into big pieces, heat 1 glass of water then put 1/2 tsp salt in it. Now put the cauliflower pieces in the water, cover and keep for 5 minutes. After 5 minutes remove the pieces from water.
Peel the raw bananas and keep them in water. While you cook the vegetables cut them in pieces. Wash capsicum, remove its seeds and cut it into pieces.



Wash and cut tomatoes. Break the stems of the chillies then cut them. Peel, wash and cut ginger in big pieces. Make a fine paste of the tomatoes, chillies and ginger. Peel black pepper, cloves, cinnamon and Elaichi then crush them to make a coarse powder.
Put spinach in a utensil along with 1-2 big spoons of water, allow it to boil on a low flame. After spinach is boiled, cool it down then grind and keep in a utensil.
Pour 2 tbsp oil in a frying pan(kadhai), after oil is heated put the pieces of cauliflower, bananas and capsicum. Add 1/2 of the salt and stir fry for 2 minutes then cover and cook on a low flame for 2 minutes. The vegetables become a little soft.
In another frying pan pour 1 tbsp oil and heat, put Heeng and Jeera in hot oil. After Jeera is roasted add coarsely powdered spices, turmeric powder and coriander powder followed by tomato-chilly and ginger paste. Fry all these spices till oil starts to float over them.


Put spinach paste in the fried spices, also put red chilly powder, salt and fry for 2 minutes. You can add water and make Tari thick or thin as you wish. Add the cooked vegetables: cauliflower, bananas, capsicum, cashew nuts and raisins. Mix all the contents in th epan properly and cook for 1-2 minutes(stir continuously).
Mixed Vegetable fry with Palak is ready. Serve hot Palak Mixed Veg with chapati, naan or rice. 

Suggestion
The vegetables that you put in the spinach can be according to your wish or the vegetables that are available in your kitchen.
If you prefer onion then finely chop 1 or onions and 4-5 garlic cloves. There is no need to put Heeng in hot oil, put chopped onions and garlic then fry till they turn light pink. Then fry the spices as instructed earlier and add the spinach puree and mixed vegetables. Palak Mixed Veg with onion is ready..!

Tags
Categories
Mixed Vegetable fry with Palak Recipe
Nisha Madhulika
Rating:

5.00

out of

5