Alsi Pinni Recipe – Alsi Ladoo Recipe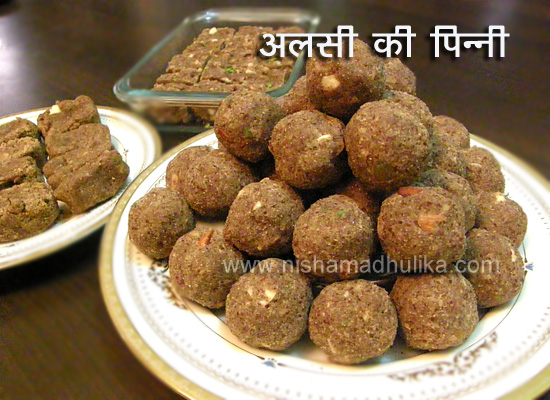 It's the Winter time and your family needs extra health care. Recipes made of Alsi (Linseeds or Flax Seeds) are beneficial for cold and cough related matters and also give strength.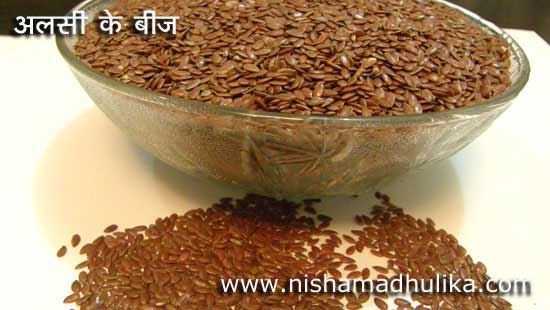 Linseeds contains Omega-3 and Omega-6 elements, that control the cholesterol level of your body. It competes almonds and walnut in regards to its medicinal and nutritional properties.
Alsi Pinni is a traditional sweet that can be eaten in winters. Store the Pinni in winters and keep on consuming them throughout the weather to keep cough, cold, arthritis and body pain at bay. Lets start preparing Alsi Pinni - Alsi Laddoo today.
इस रेसीपी को हिन्दी में पढिये - Also Pinni Recipe in Hindi
Ingredients for Alsi Ki Pinni
Alsi (linseeds) - 500 gms. (21/2 cup)
Wheat flour - 500 gms. (21/2 cup)
Desi ghee - 400 gms. (2 cup)
Jaggery or sugar - 750 gms.
Cashews - 100 gms.
Almonds - 100 gms.
Pistachios - 1 table spoon.
Raisins  - 1 table spoon.
Gond - 100 gms.
Cardamom  - 15 (peel and grind)
Method - How to make Alsi Ki Pinni

Sieve the Alsi (Linseeds or Flax Seeds) on a plate. 



Put the alsi in a dry pan and roast it. Alsi make twisting sound while getting roasted. Now grind it in a mixer, but do not over grind it.
Roast the wheat flour in ghee until it turns brown and leaves the fragrance. Take it out in a separate bowl.
Break the gond and roast it in the ghee. The gond will rise up. Fry it until it turns brown and take it out in a separate bowl. Press them with a roller on a plate and grind it.
Now roast the alsi in the left over ghee and roast it on a medium or low flame until it turns brown and starts to leave its fragrance.
Chop the cashews, almonds and pistachios.
Put jaggery or sugar (250 gms.) in the water (1 1/4 cup) in a pan. Stir the mixture till the sugar dissolves completely into the water. Test the syrup by putting it between your forefinger and thumb. If the syrup leaves a string while parting the two, then it means the syrup is ready. Turn off the flame.



Put roasted flour, roasted alsi, chopped nuts, gond into it and mix well. Let the mixture cool down a little. Take out a small portion of the mixture equal to the size of a lemon. Prepare laddoo from the whole mixture giving it round shape. You can also try molding the mixture in the shape of a burfee.
If you want to make burfee then pour the mixture in a greased tray and let it set. Once the mixture sets down cut it into the square shape.
Alsi pinni is ready. Store the pinni in an air-tight container , that can be consumed for over one month. Eat it everyday along with tea.
Precautions. 
Keep the flame low or medium while frying the gond. Else they will do not rise well on high flame and also remains raw from inside.
Roast the Alsi on medium and low flame (It might burn on high flame).
make sure that the sugar dissolves well while making the syrup.
Alsi Pinni Recipe video


Tags
Categories
Alsi Pinni Recipe – Alsi Ladoo Recipe
Nisha Madhulika
Rating:

5.00

out of

5