Kasoori Methi Gobi/Cauliflower with Fenugreek Leaves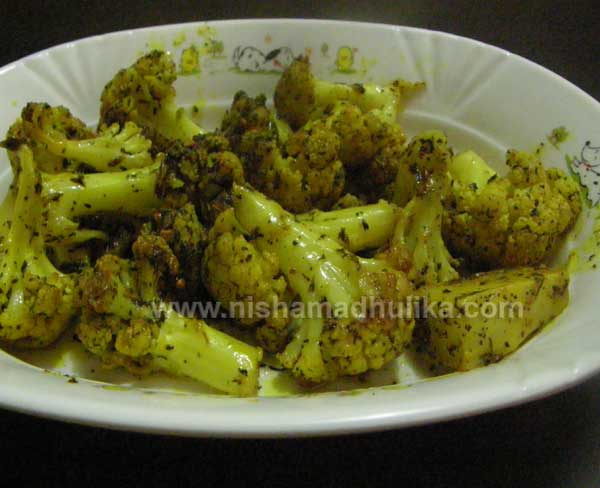 The fragrance of Methi makes cauliflower curry more delicious, Methi is available in the market so go get some green Methi.
Methi Matar Malai, Methi Alo Fry, Methi Poori,  Methi Tuvar Dal, etc.. I like all of them. Whether Methi is fresh or dried Kasoori, both increase the fragrance and flavour of food. So today we will prepare Cauliflower with Methi(fenugreek leaves).
हिन्दी में पढिये : Kasoori Methi Gobi/Cauliflower with Fenugreek Leaves
- Ingredients for Cauliflower with Methi(Fenugreek Leaves)
Cauliflower - 1/2 kg (1)
Methi - 250 grams or 1 small bunch
Fresh curd - 100 grams (1/2 cup)
Ginger - 1 inch long piece
Green chillies - 2 to 3
Oil - 2 tbsp
Heeng - 1 to 2 pinch
Jeera(cumin) - 1/2 tsp
Turmeric powder - 1/4 tsp
Coriander(dhaniya) powder - 1 tsp
Red chilly powder - 1/4 tsp
Salt -  add to taste (1 tsp)
Garam masala - less than 1/4 tsp
- How to make Cauliflower with Methi(Fenugreek Leaves)
Cut the cauliflower in big pieces. Put 1/2 tsp salt in warm water and put the pieces of cauliflower in this water, soak for 5 minutes. Take out the pieces from the water and wash properly.
Cut the Methi's stems and wash it's leaves twice with clean water. Keep them on a plate to drain remaining water. Then finely chop the leaves.
Peel, wash and cut ginger in big pieces. Break the stems of the green chillies and wash them. Put curd, ginger and green chillies in a grinder and grind them till you get a fine paste.
Put the pieces of cauliflower along with 1/4 tsp salt in the curd mixture and mix them well.Cover and keep it aside for 20 minutes. (Cauliflower can also be prepared by frying if you are not avoiding excess oil- pour oil in the pan and heat, put the cauliflower pieces wrapped in curd spices and fry till they turn light brown. Curry has to be prepared in the given method).
Pour oil in a frying pan(kadhai) and heat, put Heeng and Jeera in hot oil. After Jeera is roasted add turmeric powder, coriander powder, chopped Methi leaves and mix properly. Stir fry with a spoon for 2 minutes, mix curd and cauliflower to the spices followed by red chilly powder. Cover the pan and cook on a low flame till cauliflower turns soft. Turn off the gas. Put Garam masala to  Cauliflower with Fenugreek Leave and mix.डालिये और मिलाइये
- Cauliflower with Kasoori Methi (Dry Fenugreek Leaves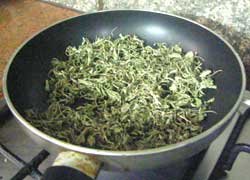 After washing the cauliflower pieces with water, apply some oil to the pieces and sprinkle some salt. Put them in a Tandoor(furnace) or oven and fry for 15-20 minutes till they turn golden.
Till cauliflower is fried, fry 2 tbsp Kasoori Methi without oil. When Methi is well fried and emits a good smell, turn off the gas. Allow Methi to cool then crush the leaves, if there are many stems then Methi can be filtered with a strainer.
Put a big sized tomato, ginger piece, green chilly and coriander powder in a mixer to make a fine paste..
Heat oil in a frying pan, put Heeng and Jeera in hot oil. After Jeera is roasted put turmeric powder, 1 curry leaf and 1 inch long cinnamon piece. Fry these spices, add tomato-ginger paste to it and fry till oil starts to float over the spices.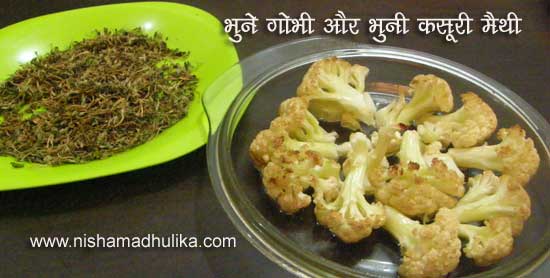 Put the roasted cauliflower pieces in the fried spices, add fried crushed Kasoori Methi, salt and red chilly powder. Mix all these contents well, cook for 2-3 minutes so that garam masala is absorbed by the vegetable.
Delicious Cauliflower with Kasoori Methi is ready, take it out in a bowl. Serve with chapati, parantha, naan or rice.
Serves - 4
Cooking time - 35 minutes

Tags
Categories
Kasoori Methi Gobi/Cauliflower with Fenugreek Leaves
Nisha Madhulika
Rating:

5.00

out of

5