Stuffed Mango Pickle Recipe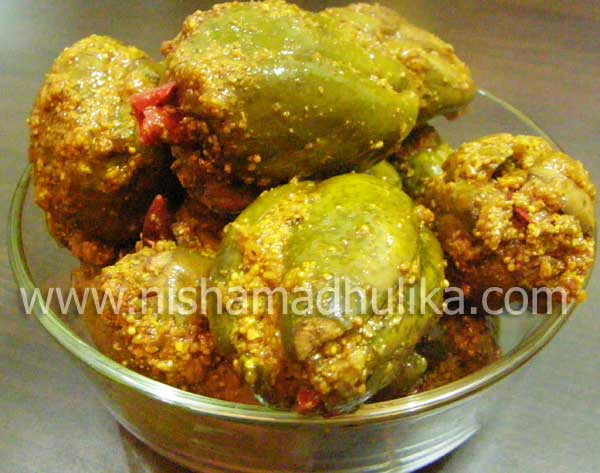 Numerous types of pickles are made mostly with mangoes, Bharwan Aam Ka Achaar is the favorite amongst all and is very easy to make. So today we will prepare Stuffed Mango Pickle.
Stuffed Mango Pickle
Cutting whole mangoes is the hardest part. Mangoes are cut with a Sarota while preparing Stuffed Mango Pickle, which i have seen with my sister when i was little but i haven't used it till date. I think this is mostly found with those who sell mangoes. So its best to get medium sized mangoes for Stuffed Mango Pickle and ask the seller to cut them for you. These mangoes can also be cut at home using a knife and something heavy to hammer it, i have followed this method of cutting mangoes at home. For Bharwan(stuffed) Mango Pickle we need to remove the stems of the mangoes and cut the mangoes from top so that they remain attached at the base.
हिन्दी में पढिये - Stuffed Mango Pickle Recipe
- Ingredients for Stuffed Mango Pickle
Mangoes - 10 to 12 (1.5 kg)
Yellow mustard - 50 grams (4 tbsp)
Saunff(fennel) - 50 grams (4 tbsp)
Methi(fenugreek) seeds - 50 grams (4 tbsp)
Ajwain(carom seeds) - 2 tbsp
Turmeric powder - 2 tbsp
Red chilly powder - 1 tbsp
Red chillies(whole) - 12
Heeng(asafoetida) - 1/4 tsp
Salt - 150 grams ( 3/4 cup)
Kashmiri Chilly Powder - 1 tbsp (if you want)
Mustard oil - 500 grams (2 1/2 cup)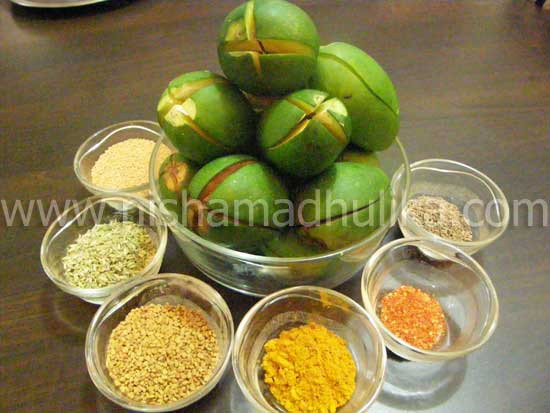 - How to make Stuffed Mango Pickle
Now that we have got mangoes from the market, remove the pulp from all of the mangoes. Soak these mangoes in clean water for 10 minutes. Take them out of the water and wash them again. Remove water completely from the mangoes. and keep them in a clean cotton cloth then place them out in the sun to dry. There should not be any moisture left in the mangoes, 1 hour of sun is  enough for drying the mangoes.
Let's prepare the spices for the mangoes. Clean Saunff, Methi, Ajwain and grind them to make a coarse powder. Also grind yellow mustard to a thick powder.
Pour 200 grams(1 cup) oil in a frying pan(kadhai) and heat. Now turn off the gas, first put Heeng followed by turmeric powder, grounded spices and mix properly. The spice will be gently fried, put grounded yellow mustard, red chillies(if you want the pickle to look red in color add Kashmiri mirch) and salt then mix well. The stuffing required to fill the mangoes is ready. Break off stems of the whole red chillies.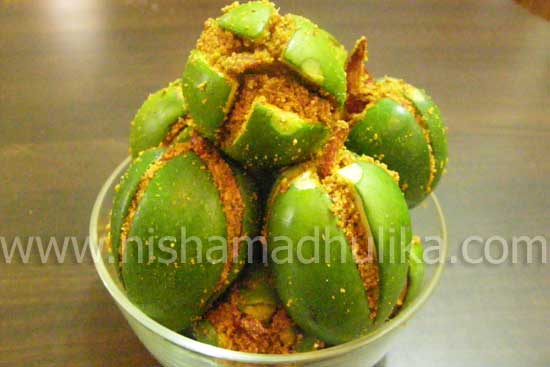 Pick one mango and fill it with spices then take 1 red chilly and put in the middle of the spices. Put the mango in the same straight position inside the container, similarly stuff the other mangoes and place them in the container. If possible place the container out in the sun for 4 days, if not then keep it inside for 4-5 days. Check on the 3rd day if the mangoes are still in the same position.
On the fourth day heat mustard oil then let it cool. Put the mangoes in this oil so that they remain submerged. Stuffed Mango Pickle will be ready in around 20 days. Take out some Stuffed Mango Pickle whenever you want to and eat. This pickle can be stored and eaten for 1 year.

Tags
Categories
Stuffed Mango Pickle Recipe
Nisha Madhulika
Rating:

5.00

out of

5