Kesar Pista Kulfi – Saffron Pistachio Kulfi Recipe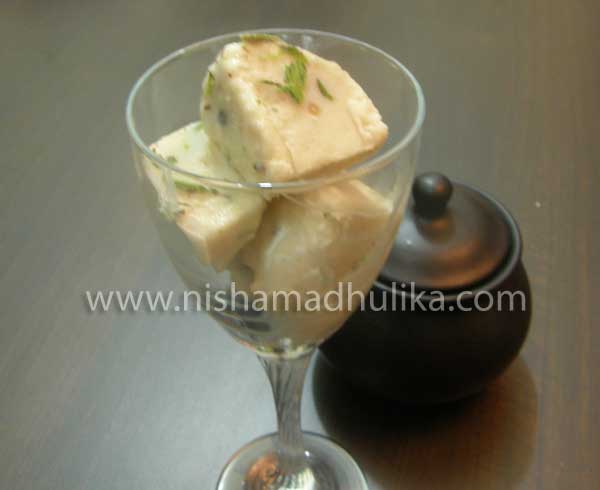 Summer is at its peak and Kesar Pista Kulfi can help us to feel cool in this summer season. It is an item which relates to everybody's childhood. Let's see the recipe of Saffron Pistachio Kulfi to remember our childhood.
Differentiate difference between Kulfi and ice cream? .Ice cream is soft but Kulfi is hard and crystalline. You can store Kulfi in the bowls, small earthen pots, small glasses or in the Kulfi molds instead of air-tight containers.
Traditionally, people condense the milk for Kulfi . They boil it till it remain less than half. Nowadays, you can make it with the condensed milk and dry milk powder but it does not have the real taste of Kulfi. It should have some fibers of milk as you can get in Rabri. You can consider Kulfi as a solid form of Rabri.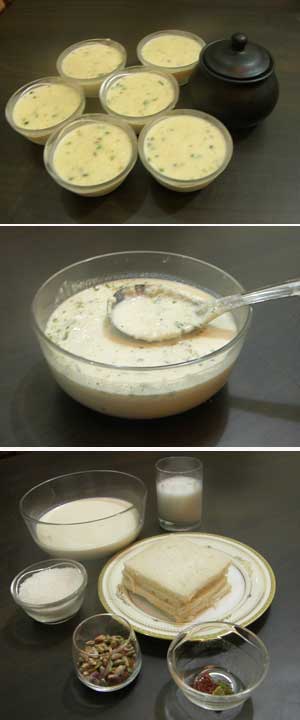 You can put almonds instead of pistachios or can make it only with saffron. Saffron is important because it can make Kulfi pale-yellow in color. Generally, Kulfi you buy in the market is dark-yellow in color because of mixed yellow color in the Kulfi and Kulfi you will make at home will be pale-yellow in color.
There are two types of Pistachios are available in the market are salted and normal. The salted pistachios are skinned and normal pistachio are available as nucleus in the market. You should buy normal pistachios for Kulfi because it does not contain salty taste.
हिन्दी में इस रेसीपी को पढिये "केशर पिस्ता कुल्फी Kesar Pista Kulfi"
Ingredients for Kesar Pista Kulfi
Milk- 1.25 litre (full cream)
Bread slices- 4
Pistachios- 1 tbl. spoon
Sugar- 100 gm ( Half cup)
Cardamom- 4-5
How to make Saffron, Pistachio Kulfi
Put milk in the heavy bottom utensil for boiling. After a boil, take one glass milk from it and keep the rest milk for boiling till it remain half from its quantity. Stir milk with the big spoon otherwise milk may set in the bottom. After boiling, put off fire and cool it.
Cut kernel of the pistachios and peel cardamoms and beat it. Cut corners of the bread slices. Then mix sugar, pistachios, cardamoms, saffron and bread slices in the remain one glass milk. Then mix this milk in the condensed milk and mix it well with the help of spoon.
Now your Kulfi is ready for solidifying. You can store it in the moulds, small bowls or earthen pots. It will become solid within few hours of storing.
After solidifying, cut it and decorate it with two cutting pieces of pistachios.
You can store it in the glasses for small children and can put a stick or spoon after hardening for holding.
Kesar Pista Kulfi – Saffron Pistachio Kulfi Recipe Video in Hindi

Tags
Categories
Kesar Pista Kulfi – Saffron Pistachio Kulfi Recipe
Nisha Madhulika
Rating:

5.00

out of

5