Meethi Mathari Recipe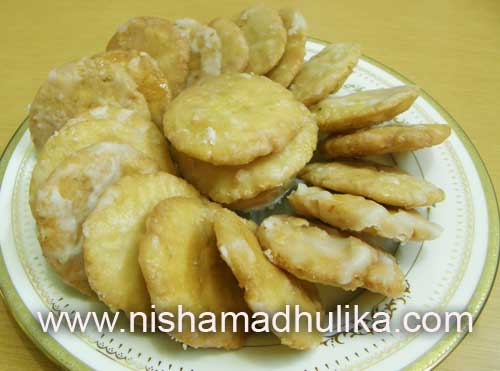 You can prepare Meethi Mathri during the festival of Holi or any other festival. Meethi(Sweet) Mathris taste awesome when you eat them.
Sweet Matrhi is also prepared for fasts during Karva Chauth . These Meethi Mathri when expanded into the size of paranthas are called Matthe. Big sized Matthe filled in baskets are given on weddings as Shagun which is distributed in the groom's house. These Matthe are also very tasty. Meethi Mathris are very easy to make and also consumes very less time. So let us start the preparation.
हिन्दी में पढिये : Meethi Mathari Recipe 
- Ingredients for Meethi Mathri/Sweet Mathri
Flour(maida) - 500 grams (2 1/2 cup)
Ghee - 125 grams (a little more than 1/2 cup)
Sugar - 500 grams
Milk - 1 tbsp
Ghee - to fry Mathris
- How to make Sweet Mathri
Filter flour and keep in any utensil, melt Ghee and put it in flour. Mix properly with your hands.
Knead a hard dough using warm water. Cover the dough and keep aside for 30 minutes.



Press the dough to make it smooth, break off 30-40 small pieces from the dough. Cover these pieces with a wet cloth and keep aside.
Pour Ghee in a heavy based utensil and heat.
Take one piece, roll it into a Mathri 2-3 inches in diameter(Mathris need to be a bit thick). Poke 12-15 holes on the Mathri with a knife. Similarly prepare all Mathris one at a time.
Ghee in the pan is now heated. Put 4-5 rolled Mathris in the pan and fry them on a low flame till Mathris turn brown. Take out fried Mathris on a plate, fry all Mathris in this manner then allow them to cool.
Prepare Chashni :
Pour 200 grams/1 small glass of water and sugar in a utensil. Place it on the gas to make Chashni. Once Chashni comes to boil add milk in it and as soon as froth appears on the sides remove it with a spoon. This makes Chashni very clean and good. Cook Chashni for 6-7 minutes and prepare a 2 thread Chashni.(to test : Pour 1 drop of Chashni on  a plate, after it cools stick it in between your thumb and index finger then separate them to see a thread like substance coming out from the Chashni). Chashni is ready.


Put 3-4 Mathris in the utensil containing Chashni, dip and take them out. Similarly dip all Mathris in the Chashni then take them out. After 5 minutes remove these Mathris from one top of another and dry them. Mathris are ready to eat after they dry up.
Meethi Mathris are ready, eat some now and keep the rest  in an air-tight container. Take out Mathri whenever you feel like eating it. You can store these Mathris for 2 months.
Cooking Time - 1 hour, 20 minutes
Meethi Mathri Recipe video in Hindi


Tags
Categories
Meethi Mathari Recipe
Nisha Madhulika
Rating:

5.00

out of

5