Rice Kheer Recipe, Recipe Of Kheer, Sweet Rice Recipe, Rice Pudding Recipe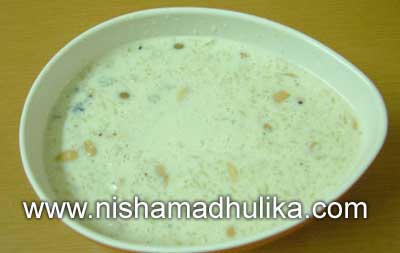 How to make Rice Kheer - To eat kheer in the month of Sawan is considered to be auspicious. kheer is delicious. Both the children and elders are fond of it. Today we will prepare the kheer.
Ingredients for Rice Kheer
Basmati Rice - 70 gm (1/2 cup)
Full cream milk – 1 liter
Pure Ghee - 1 table spoon
Cashew Nuts - 50 gm (sliced)
Dry Raisins - 25 gm (about one table spoon)
Makhane (Lotus fruit) - 25 gm (cut)
Sugar - 100 gm (about 1 small bowl)
Cardamom - 6 to 7 (peeled and grinded)
How to cook Rice Kheer
We prepare kheer by either frying the rice with ghee or by soaking them in water. Kheer prepared by either of the processes is tasty.
Put the milk in a utensil and keep it on the burner for boiling.
In the first method, wash the rice with water. Pour the oil in the pan and provide low heat to the pan for 5 to 7 minutes. Some people prepare kheer by frying the rice with Ghee.
In the second method, you can also prepare kheer by soaking the rice in water for about half an hour.
After the milk boils, add the fried or soaked rice to the utensil. Change the flame to low setting. The kheer cooked on low flame is more tasty. Keep stirring the kheer in each 4 to 5 minutes inverals (The kheer easily starts burning at the bottom of the utensil). After the rice turns soft, mix cashew nuts, dry raisins and makhane (lotus fruit) in the utensil.
Generally, it takes one hour to prepare the kheer. You will see that the rice and dry fruits both have become soft and that the mixture has become thick. Now add sugar and cook for another 2 to 3 minutes. Your kheer is ready, turn off the burner and put the cardamom in the kheer and mix it well.
Take out the kheer in a bowl. You can either eat hot or cold Kheer.
Read this Recipe in Hindi
Rice Kheer Recipe - How To Make Rice Kheer Video in Hindi

Tags
Categories
Rice Kheer Recipe, Recipe Of Kheer, Sweet Rice Recipe, Rice Pudding Recipe
Nisha Madhulika
Rating:

5.00

out of

5