Gur dhani Recipe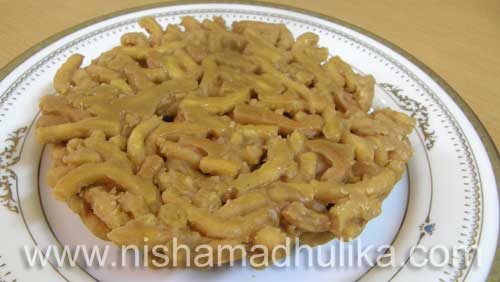 Winter is here and Gur is available in the market, you will get different types of Gur Patti in the market. You also make these Patti at home and eat. Gur and dry fruits Ladoo is a very nutritious sweetmeat for the cold season.
Gur Dhani is my favorite sweet since childhood, It is Chikki made from Sev. The Sev used in it is thicker than the usual one. So let us make Gur Dhani.
हिन्दी में पढिये -  Gur dhani Recipe
Ingredients for Gur Dhani Recipe
Flour to make Dough for Sev
Gram flour(besan) - 400 grams (2 cup)
Oil - To put in the dough and to fry
Jhawa or Sev making machine
To make Chashni
Gur(jaggery) -  400 grams (2 cup)broken in pieces
Water - 150 grams ( 1 1/2 cup)
Milk - 1 tbsp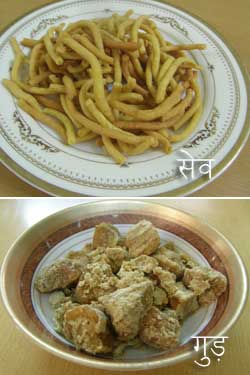 - How to cook Gud Dhani Chikki
Filter gram flour in a utensil and keep aside.
Put 3 tbsp oil in Gram flour and mix well.
Using warm water knead a soft dough, keep it aside for 30 minutes allowing it to ferment. Dough is ready to make Sev. Heat oil in a thick based pan, fill dough in the machine, press its piston to take out the Sev in the oil. Fry Sev till it turns light brown then keep on a plate. If you dont have a Sev making machine then you can use a Jhawa. Prepare all gram flour Sev in this way. Sev is ready so let us prepare the Chashni.
Break Gur into small pieces, put these pieces and water in any utensil or a pan(kadhai) and heat. When water comes to boil stir with a spoon to see if Gur has turned to syrup. Now add milk and boil, you will see some froth accumulating on the sides of the utensil, collect them with a spoon and remove. Now see if this Gur Chashni has a consistency of 3 threads(put 1 drop of Chashni between your thumb and index finger, when you separate the 2 you will see a thread like substance).
Put Sev in in Chashni and mix properly. Keep this mixture on a plate greased with Ghee to solidify. Gur Dhani will condense completely in 30 minutes., now you can cut it into your desired shapes. Gur Dhani is ready..!
Keep Gur Dhani in an air-tight container, have it everyday for a month.
Gud dhani Recipe video in Hindi

Tags
Categories
Gur dhani Recipe
Nisha Madhulika
Rating:

5.00

out of

5