Panchamrit Panjiri Prasad

Panchamrit Panjeeri Prasad is distributed after Satyanarayan Katha, Bhagwad Puja, Krishna Janmashthami. It is also known as Charanamrit or Charanamrut. It is called Panchamrit because it is made by mixing 5 ingredients together. So let us prepare Panchamrit.
हिन्दी में पढिये : Panchamrit Panjiri Prasad
- Ingredients for Panchamrit
Fresh curd - 500 ग्राम (2 1/2 कप)
Milk(cold) - 100 grams (1/2 cup)
Sugar - 50 grams (1/4 cup)
Honey - 1 tbsp
Makhane(fox nut) - 10 to 12
Tulsi leaves - 8 to 10
- How to make Charnamrit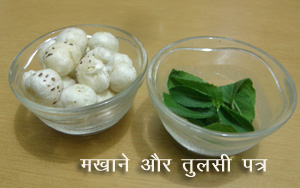 Put curd in a big utensil. Add milk, sugar and honey to the curd, mix with a spoon.
Cut Makhane into 4 pieces and put in this mixture, chop Tulsi leaves then mix with the mixture. Your Panchamrit or Charnamrit is ready.
Panjiri
Panjiri is also made with Charnamrit as prasad. Panjiri reminds me of my childhood days, we used to blow off more of the Panjiri than have it. My elder brother had once told me to put Panjiri in my mouth and say the word "Fufa" and the entire Panjiri flew out from my mouth. All the kids around laughed a lot, so sometimes we kids used to blow out a lot of Panjiri, anyways let us start its preparation.
- Ingredients for Panjeeri
Wheat flour - 200 grams (1 cup)
Ghee - 50 grams (1/4 cup)
Bhura (powdered sugar) - 100 grams (1/2 cup)
Makhane(fox nuts) - 10 to 12
- How to make Panjeeri
Filter flour in any utensil. Keep a thick based pan on the gas(turn it on) and heat, put flour in hot Ghee and stir fry regularly on a medium flame. When a good aroma emits from the flour and it turns brown then turn off the gas.
Allow the fried flour to cool down.
Cut 1 Makhana into 4-5 pieces, pour 2 tsp Ghee in a small frying pan(kadhai) and heat. Put chopped Makhane in hot Ghee and stir fry till they turn brown. 
Mix fried Makhane and Bhura to fried flour, tasty Panjiri is ready. You can eat it right away and keep the left over in an air-tight container. Whenever you feel like, take out Panjiri from the container and eat. Panjiri remains fresh for 2 months.
When Kavita ji asked me for Charnamrit's recipe, she reminded me of my childhood days. At my childhood home there used to be a gathering for Satyanarayan Katha in the neighborhood once in every week and there we were given Panchamrit as prasad, but these days we don't get such opportunities. A big thanks to Kavita ji. Today we are preparing Panjiri after many long years.
Panchamrit Panjiri Prasad video


Tags
Categories
Panchamrit Panjiri Prasad
Nisha Madhulika
Rating:

5.00

out of

5