Sambar Recipe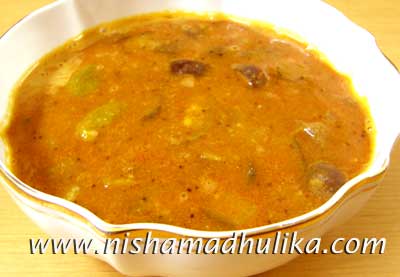 Sambhar is an important part of traditional Tamil cuisine. The awesome smell of fried spices in hot Sambhar draws you to it.
Be it rice, Vada, Dosa, Idli, Rawa Idli, Sambhar Sambhar can be eaten with any of them. It can be prepared in many ways. The main vegetables in it are Jack fruit or Drumsticks which give it a different taste. Arhar dal and vegetables are used to make Sambhar. It is tasty as well as nutritious. So lets prepare Sambhar today.
हिन्दी में पढिये : Sambar Recipe
- Ingredients for Sambar
Arhar dal - 100 grams(1 small cup)
Gourd(lauki) - 250 grams (1 bowl of lauki pieces )
Brinjal - 1 to 2(small)
Lady's finger - 4 to 5
Tomatoes  - 3 to 4
Green chilli - 2
Ginger - 1 1/2 inch long piece
Tamarind paste - 1 tsp(if you want)
Salt - add to taste
- Ingredients for Sambar Masala Powder
Red chilli  - 3 to 4
Coriander(dhaniya) - 1 tbsp
Meethi seeds - 1 tsp
Turmeric powder - 1/2 tsp
Chana dal - 1 tsp
Urad dal - 1 tsp
Heeng(asafoetida) - 2 pinch
Jeera - 1/2 tsp
Black pepper - 1/2 tsp
Oil - 1 tsp
For Tadka
Oil - 1 to  2 tbsp
Rie - 1 tsp
Curry leaves - 7 to 8
- How to Make Sambar
Wash Arhar dal and soak it in water for 1-2 hours(if dal is soaked earlier it cooks faster and becomes more delicious).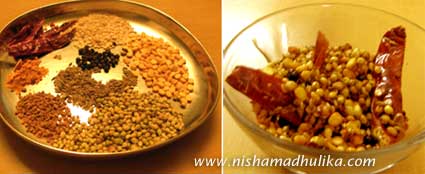 Make Sambhar powder
Pour 1 tsp oil in a pan(kadjai). Put Chana Urad dal and Meethi seeds, fry the two till they turn light brown. Now add coriander, Jeera, Heeng, turmeric powder, black pepper and red chilli and fry some more.  Cool off the spices and grind them. You can also prepare Sambhar masala powder to use at once, but grounded spices kept for a long time lose its flavour. The smell that freshly grounded fried spices emit cannot be substituted by those stored for a long time.
Make a paste with tomatoes, green chilli and ginger.
Put dal with 2 times more water in a cooker. After 1 whistle goes off cook dal for 4-5 minutes on a a low flame. Turn off the gas.
Wash gourd, brinjal and lady's finger then cut them into 1 inch long pieces. Add salt to taste and after adding 3-4 tbsp of water, cook the vegetables till they become soft.
Pour oil in a pan and heat. Put Rie in hot oil, once Rie is fried add curry leaves and fry. Put the tomato paste and fry till oil starts to float over the spices. Now add Sambhar spices and fry for 1 minute.
After all the pressure escapes from the cooker, open its lid and mash the dal. Add the fried tomato spices and put water according to how thick you want the Sambhar. Also put in salt and the tamarind paste then mix. Once Sambhar comes to boil cook it for another 3-4 minutes. Sambhar is ready.
Take out Sambhar in a bowl garnish with green coriander leaves. Serve Sambhar with Idli, Dosa or your favorite dish and enjoy.
Note
If you want Sambhar with onions in it then after adding Rie and curry leaves put one finely chopped onion. Fry onion till it turns light pink then add tomato and chilli paste and fry. Now follow the rest of the procedure to make Sambhar.

Tags
Categories
Sambar Recipe
Nisha Madhulika
Rating:

5.00

out of

5