Besan Masala Sev Recipe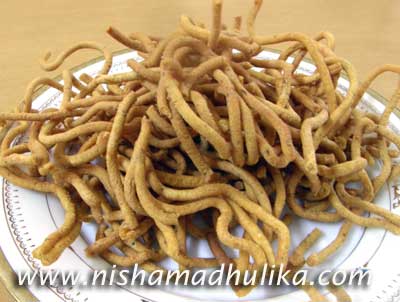 There are different types of Besan Sev available in the market. This is made from various spices, lentils and flour. But crispy Besan Masala Sev made from Besan and spices has a unique taste. You can make it very easily at home too. Today we will prepare Namkeen Besan Sev.
हिन्दी में पढिये : Besan Masala Sev Recipe
- Ingredients for Besan Masala Sev
Gram flour(besan) - 400 grams (2 cup)
Oil - 50 grams(1/4 cup)
Salt - add to taste( 1 tsp)
Black pepper  - 1 tsp( grind)
Ajjwain(carom seeds) - 1 tsp
Clove - 1 tsp( grind to a coarse powder)
Oil - to fry Sev
How to make Besan Masala Sev Recipe
Filter gram flour and keep it aside in a utensil. Put oil, salt, Ajjwain, clove and black pepper to the gram flour and mix well. Using warm water knead a soft dough(softer than the dough for chapati), cover the dough and leave it for 30 minutes to ferment. The dough to prepare Sev is ready.
Pour oil in a pan(kadhai) and heat(to check if the oil has heated put a small piece of dough in it. If the oil is hot then the piece will rise up to the surface else it will sink). Oil is sufficiently heated.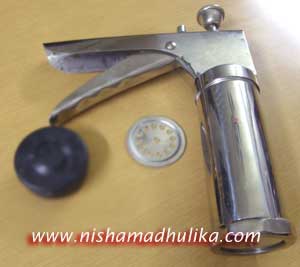 We use a cutter to make Sev, use as big a cutter according to how thick you want the Sev. Place the cutter over the pan, put 1/4 of the dough in the container of the cutter and press in with your hands. Press the piston of the cutter to squeeze out all of the Sev into hot oil. If Sev sticks to the cutter then use a knife to remove it and put in oil. Fry then turn over the Sev after one side is fried.
Keep Sev on a plate covered with a paper napkin. Similarly put more dough in the container and prepare the Sev.
Instead of a cutter you can also use the machine used for making Sev. It is found in various models and in any utensils shop.
If you want to use a Sev making machine then get it according to how thick you want the Sev. Put the dough in the container, close its lid, keep the machine over the pan. Press the piston and let the Sev fall out from the holes of the container into hot oil as much that can fit in the pan. Once Sev is fried to light brown turn it over. Keep this Sev on a plate covered with paper napkin. Repaeat this process till you have used all of the dough.
Besan Masala Sev is ready, let the Sev cool off for some time then check if Sev is crispy. Serve hot Besan Masala Sev. Store the remaining in an air tight container and eat whenever you feel like. Besan Masala Sev can be stored up to 2 months.ये बेसन के नमकीन
Coking time - 1 hour
Besan Masala Sev Recipe video in Hindi


Tags
Categories
Besan Masala Sev Recipe
Nisha Madhulika
Rating:

5.00

out of

5