How to make Chhena – How to make Paneer at home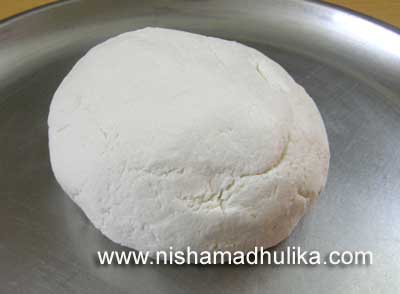 Cottage cheese (paneer) is used to make various recipes and bengali sweets. Paneer to make recipes is easily available in the market, but the quality available cannot be used to make bengali sweets like rasgulla, chamcham, rasmalai etc.
The quality of paneer available in the market is very hard as compared to the chenna used to make the Bengali sweets. It is not made with full cream milk. You can make paneer at home if you plan to make any kind of bengali sweet, instead of using paneer available in the market.
If you stay at the place, where paneer is not available in the market, then you can easily make it at home with few simple steps. So lets make Paneer (cottage cheese) at home.
हिन्दी में पढिये : How to make Chhena – How to make Paneer at home
Ingredients for Chhena
Full Cream Milk - 1 ltr. 
Vinegar or Lemon juice - 2 table spoon.
How to make Paneer ( Cottage cheese) at home.
Always use full cream milk to make paneer at home. Boil milk in a deep pan and keep on stirring so that it do not stick at the bottom of the pan.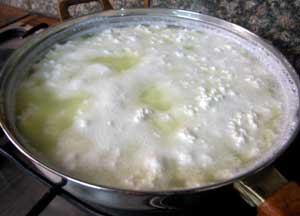 Once the milk starts to boil add lemon juice or vinegar into it. Within few minutes you will see that the milk will separate from the water. Turn off the flame as soon this happens and add cold water or ice cubes into it. The paneer will instantly separate from the water and will start to float at the surface of the pan.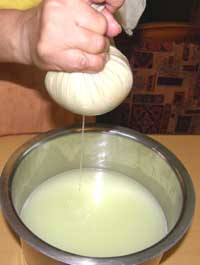 Now sieve the chenna with a muslin cloth. Squeeze the cloth with hands to strain any excess water from the paneer and take it out from the cloth. Chenna to make rasgulla is ready.
If you want to use this paneer to make any curry recipe, then do not takeout the paneer from the cloth. Instead place a heavy object at the end of the cloth for half an hour. Within half an hour, the paneer will become hard. This can be used to make Indian curry recipe like matar paneer, palak paneer, paneer butter masala etc.
Tags
Categories
How to make Chhena – How to make Paneer at home
Nisha Madhulika
Rating:

3.74

out of

5