Sattu ki Kachori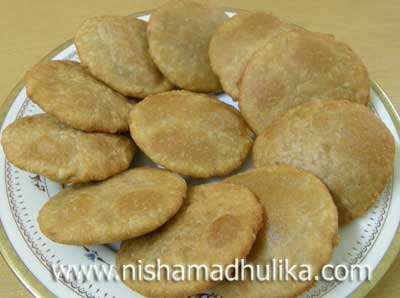 Breakfast during weekends is different than breakfasts on weekdays. If there is something delicious set on the table, the holiday starts off on a better note. So lets prepare Sattu ki Kachori for breakfast this weekend.
It is very easy to prepare Sattu Ki Kachori and it also consumes less time. These days Sattu ki Kachori is available in grocery stores in almost all cities. Kachori- stuffed with Sattu can be stored up to 4-5 days.
हिन्दी में पढिये : Sattu ki Kachori
- Ingredients for Sattu ki Kachori
For dough:
Wheat flour - 400 grams or 2 cup
Oil - 1 to 1 1/2 tbsp
Salt - add to taste (1 tsp)
For Stuffing:
Sattu  - 150 grams or less than 1 cup
Ghee/oil  - 1 1/2  tbsp
Heeng(asafoetida)  - 1 pinch
Jeera(cumin seeds) - 1/2 tsp
Dhaniya(coriander) powder - 1 tsp
Green chilli - 2 (finely chopped)
Ginger - 1 inch long piece(grated)
Red chilli powder-  1/4 tsp
Garam masala  - 1/4 tsp
Amchur(mango) powder  - 1/4 tsp
Salt - add to taste ( 1 tsp)
Green Dhaniya(coriander) - 1 tbsp (finely chopped)
Oil - to fry kachoris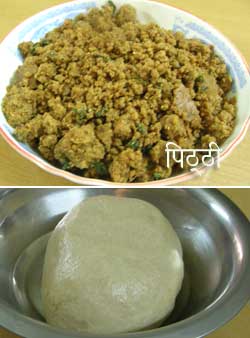 - How to make Sattu ki Kachori
Filter flour in a utensil, put oil and salt in it and mix. With the help of warm water knead the flour. Cover the dough and keep aside for 15-20 minutes.  To prepare Pitthi(stuffing)  filter Sattu and keep in a utensil, heat Ghee in a pan(kadhai) then add Heeng and Jeera in it.
Once Jeera is fried add green chilli and ginger.
Now put Sattu, Dhaniya powder and stir fry till color turns brown (Sattu fries instantly as it is already roasted). In this roasted Sattu add red chilli powder, Garam masala, Amchur powder, salt, Green Dhaniya and mix well. The stuffing for Kachori is ready.
Pour oil in a pan and heat, from the Kachori's dough break off a piece as big as a lemon. Expand it with your fingers, place 1 tsp of stuffing on it, wrap up the piece and close it. Keeping it on your palm press gently with the other hand and expand a little. Now place it on a board and roll it into a Kachori (with a rolling pin)2 1/2- 3 inches in diameter. Kachori should be thick. Make 4-5 Kachoris in this way, put them in hot oil and cook on a medium flame. Turn the Kachoris regularly and fry till they turn brown. Repeat this process with the remaining Kachoris.
Serves - 4
Cooking time - 40 minutes
Sattu ki Kachori video in Hindi


Tags
Categories
Sattu ki Kachori
Nisha Madhulika
Rating:

5.00

out of

5