How to Sprout Lentils
Chana or lentils(dal) or any type of lentils compose our daily meals, thy are high on protein,carbohydrates and vitamins A & B. Even after we sprout the lentils their nutrition value increases and even vitamin C is available. Vitamin C is very important for our body.  Sprouted Lentils are filled with Fibre, improve digestion and are obviously nutritious.
Grains are lentils which take out sprouts in favorable conditions and also increase in size.
हिन्दी में पढिये : How to Sprout Lentils
How to Sprout Lentils
We often sprout the lentils of black chana, kabuli chana, soya, whole moong, moth or lobiya beans and put them to use.
You can keep sprouting different seeds and use them. Wash the lentils to be sprouted twice and soak in water( water must be above 2-3 centimeters) for the entire night or 10-12 hours. Always use drinking water to sprout the lentils.
Take out the lentils from the water, cover with a strainer or wrap in a thick cotton cloth then keep in a warm place in your room. The lentils will sprout in 24-36 hours.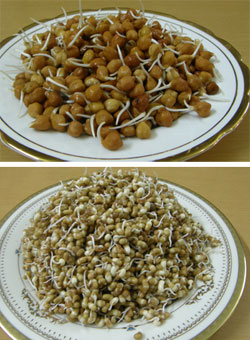 The next day you will see a white thread type substance popping out from the lentils. If the sprouts have become 1-2 centimeters in length then the lentils are ready to eat. If the sprouts are very tiny then gently sprinkle some water and let them be for 12 hours. Now these sprouts have grown to a sufficient length (the lentils should always contain moisture to sprout).Sprouts grow more faster during summers compared to the cold season, seeds do not sprout at extreme climates. Even if softness and moisture are absent in the lentils then they do not sprout).)
Even in the next 7 days after the lentils have sprouted they are still high on minerals and vitamins. It is best to eat them within these 7 days. Sprouted lentils can be had raw or boiled in the form of a salad, else you can make a dish out of it and eat.
How to boil Lentil Sprouts :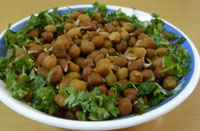 Once the lentils are sprouted wash with water, put them in  the cooker. Add 2-3 tbsp water, salt to taste and mix.
 After 1 whistle goes off instantly turn off the gas. Also release  half of the cooker's pressure(don't boil the sprouted lentils  too much else they lose their nutritious value). Open the lid  and take out the sprouted lentils. Put 1/2 a lemon's juice to make the lentils more tasty.  Garnish with green coriander(finely chopped). Sprouted Lentils salad filled with vitamins  is now ready. Serve and eat. You can use this salad in your everyday meals. If there is too  much water in the boiled lentils then don't throw it, it can be drank as a soup. It contains  many nutritious elements.

Tags
Categories
How to Sprout Lentils
Nisha Madhulika
Rating:

5.00

out of

5