Sweet Mango Chhunda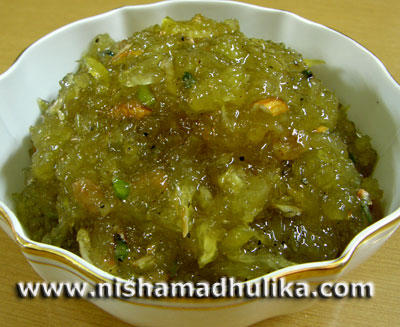 Mango Chhunda is a traditional Gujarati dish. There are 2 types of Mango Chhunda : 1)with spices, this tastes good with Roti, Paranthas, almost anything and 2) Sweet Mango Chhunda, which is liked a lot by kids when rolled with roti or parantha or with bread and they eat these with much delight). So today we will be making Sweet Mango Chhunda.
हिन्दी में पढिये : Sweet Mango Chhunda
- Ingredients for Mango Chhunda
Mangoes - 1 kg. (1 bowl,grated)
Sugar - 1.5 kg (1 1/2 bowl)
Elaichi(cardamom) - 6 to 7 (make a coarse powder)
Raisins - 25 grams (30 to 40, break their stems)
Almonds - 10 to 12 (chopped)
Pistachios - 1 tbsp (chopped)
- How to make Mango Chhunda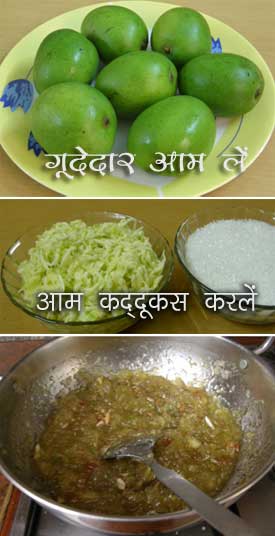 Mango Chhunda is made in many ways :
1. Mix sugar with grated mangoes, fill them in a glass container and cover it's mouth with a thin cloth tied over it. This container is kept out in the sun, the mixture has to be stirred twice everyday. This Chhunda will be prepared in the next 7-8 days, mango juice mixed with sugar makes a thick syrup and the mango pieces also turn soft after eing kept in the sun. Elaichi, almonds, pistachios and raisins are added later to the mangoes. If you want to make Chhunda with spices then put roasted Jeera, black pepper and salt, Mango Chhunda with spices is ready. This procedure requires daily vigilance, and it also consumes a lot of time.
2. In this process Mango Chhunda is prepared by cooking on the gas.
3 Mango Chhunda can also be made in the microwave.
Procedures 2 and 3 requires less time to prepare Mango Chhunda. Here we will follow procedure 2. by cooking Sweet Chhunda on the gas.
Wash mangoes properly with clean water, keep these mangoes on a plate allowing the water to dry, peel these mangoes using a peeler. Now grate these mangoes with a grater or you can use the food processor. Do not forget to remove the seeds.
Put sugar in the grated mangoes and keep aside in a bowl for 10-12 hours. Stir this mixture in every 3-4 hours. Grated mangoes release a juice in which the sugar dissolves.
Put this sugar and mango mixture in a frying pan(kadhai) and cook on the gas while you stir continuously. This mixture thickens in 10-15 minutes, you will see thread like substance has started to form in this Chashni( to test the consistency of this Chashni : pour 1 drop of it on a plate then place it between your thumb and index finger, when you separate your fingers a thread type substance will be seen). Turn off the gas
Mix Elaichi and all dry fruits to the Chhunda. Sweet Mango Chhunda is ready, after it cools down fill it in a container. Take out Mango Chhunnda whenever you or the kids want to eat some with parantha, chapati or bread.
Mango Chunda Recipe video in Hindi


Tags
Categories
Sweet Mango Chhunda
Nisha Madhulika
Rating:

5.00

out of

5