How to Sprout Beans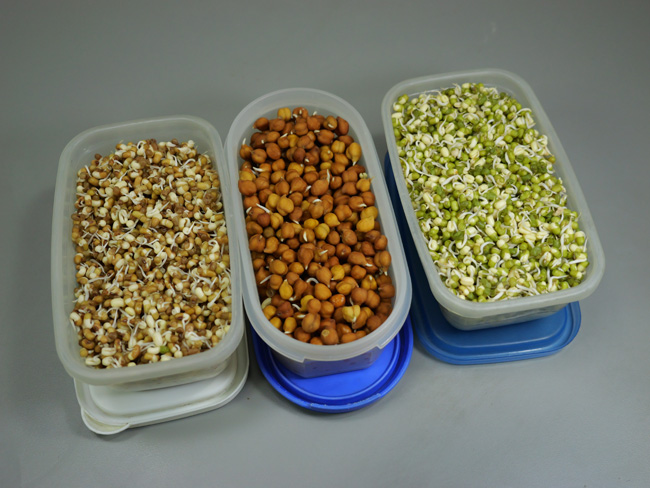 Eating sprouted lentils and gram is very beneficial for health. That's why today we will sprout moths, moong and gram. Along with this, we will also make sprouted lentils and gram salad. They are very easy to sprout and you can store them for a week. So with this easy recipe, sprout lentils and gram and make a salad and enjoy the taste of this nutritious breakfast with your family.
Process of Sprouting Moth, Moong and Chana
Wash and soak 100 grams of moth, moong and gram in water and keep it for 8-10 hours or overnight. After the time is up, remove their water. Now wrap the gram in a cotton cloth and soak it by adding water. Keep the sieve over the bowl and keep this cloth on it.
Similarly, after removing the water of moth and moong, wrap them in separate cotton clothes and keep them on a sieve. Keep them like this for 12 hours. When the time is up, the moth and moong will sprout and be ready. Chana takes 24 hours to sprout. In this way they will sprout.
Process of storing Sprouted Chana, Moth and Moong
Wash the sprouted dal and gram thoroughly once. Then put them in a sieve and drain out all the water. Now put gram in an airtight container, put moth in a container and moong dal in a container and close them. You can keep them in the fridge and use them for 7 days.
Process of making Salad
Take out the sprouted dals and chana 1/2-1/2 cups each in a bowl. Now put all the three in the pan and pour water in it, so that it gets submerged. Also put 1/4 tsp of black salt in it and let them boil for 5 minutes. Meanwhile, finely chop half a cucumber and 1 tomato (removing the middle part and seeds).
After boiling for 5 minutes, remove the peels that came on top of them. Then press a gram and see, if it is pressing, then turn off the flame and filter them. You can drink the filtered juice like a soup, it gives relief from constipation.
Now put boiled sprouted chana dal, finely chopped cucumber tomato, 1/2 tsp of black salt, 1/2 tsp of roasted cumin, 1 tsp of green chutney and 1 tsp of olive oil in a bowl. Mix them well. Then peel some soaked almonds and put them in it. Salad is ready, serve it and enjoy its taste.
Suggestions
You can add any vegetable in the salad according to your taste.

Tags
Categories
How to Sprout Beans
Nisha Madhulika
Rating:

5.00

out of

5