Kaddu ki Khatti Meethi Sabji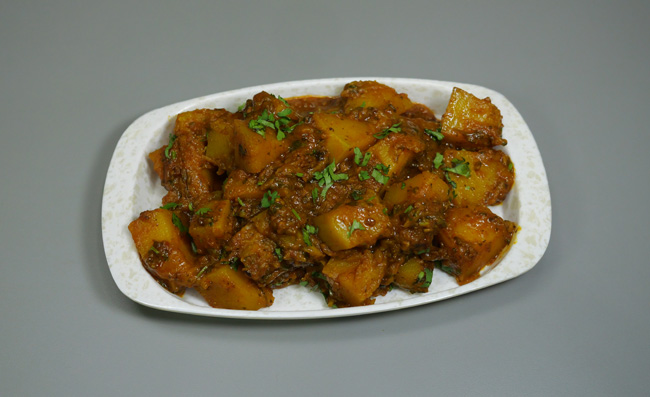 Today we are going to make Pumpkin's sour sweet spicy vegetable to serve with puris. It is very easy to make and it is ready in a jiffy. It can be served with puris as well as with parathas or roti. You will find its sour sweet taste very amazing. So with this easy recipe, you can also make sweet and sour pumpkin curry and enjoy its taste with your family.
Ingredients for Khatte Meethe Kaddu Sabzi Recipe
Pumpkin - 500 grams
Mustard Oil - 2 tbsp
Fenugreek Seeds - 1 tsp
Fennel Seeds - 1 tsp
Asafoetida - 1/2 pinch
Tomato - 1 (100 grams)
Ginger - 1/2 inch
Green Chilli - 2
Turmeric Powder - 1/2 tsp
Coriander Powder - 1 tsp
Kashmiri Red Chilli - 1 tsp
Dry Fenugreek Leaves - 1 tbsp
Salt - 1 tsp
Dry Mango Powder - 1/2 tsp
Garam Masala - 1/4 tsp
Sugar - 2 tsp
Coriander Leaves
Process of making Kaddu ki Sabji
Wash and dry 500 grams of yellow pumpkin. Then cut its slices and cut off the soft part and remove it. Also cut off the skin and remove it. Then cut them into medium size pieces. After cutting all the pieces, wash them again one by one.
Put 2 tbsp of mustard oil in a pan and heat it. When the oil is hot, reduce the flame to low and add 1 tsp of fenugreek seeds, 1 tsp of whole fennel, 1/2 pinch asafoetida and tomato-green chilli-ginger (1 tomato, 2 green chilies and 1/2 inch ginger) paste. Stir them well.
Now add 1/2 tsp of turmeric powder, 1 tsp of coriander powder and 1 tsp of kashmiri red chilli. Fry it on medium flame while stirring it occasionally till the oil separates. After the oil separates, add 1 tbsp of kasoori fenugreek (crushed) and fry it lightly.
After the spices are roasted, add chopped pumpkin and 1 tsp of salt and fry them lightly. Then put 1 tbsp of water in it and cover it and let it cook for 3-4 minutes on low-medium flame. After the time is up, stir it then cover and cook it for another 5 minutes.
After the time is up, cut the pumpkin and see, it will cut. Then add 1-2 tbsp of water to it and mix. Also add 1/2 tsp of amchur powder, 1/4 tsp of garam masala and 2 tsp of sugar. Mix them well and mix some green coriander in it.
Now cover it and cook it for 3-4 minutes on low-medium flame. Turn off the flame after the time is up. In this way, the sour sweet vegetable of pumpkin will be ready. Serve it and enjoy its taste.
Suggestions
Pumpkin curry can also be made by adding jaggery instead of sugar.

Tags
Categories
Kaddu ki Khatti Meethi Sabji
Nisha Madhulika
Rating:

5.00

out of

5