Karonda, Karvand , kalakai or Chalkai Sweet Pickle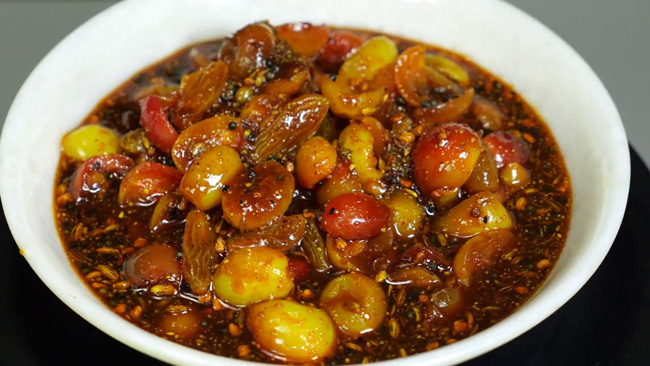 Karonda comes to the market during the rainy season. So today we are going to make sour sweet pickles of Karonde. You will love its sour sweet taste. You can give it to children by packing it in tiffin with roti, paratha or anything. So with this easy recipe, make Karonde Ka Khatta Meetha Achaar and enjoy the taste of it with your family.
Ingredients for Karonda Sweet Sour Pickle
Karonda - 250 grams
Jaggery - 200 grams
Mustard Oil - 1 tbsp
Cumin Seeds - 1/4 tsp
Fenugreek Seeds - 1/4 tsp
Mustard Seeds - 1/2 tsp
Fennel Seeds - 1 tsp
Asafoetida - 1/2 pinch
Salt - 1/2 tsp
Turmeric Powder - 1/2 tsp
Kashmiri Red Chilli - 1 tsp
Roasted Cumin Powder - 1 tsp
Fennel Powder - 1.5 tsp
Black Salt - 1 tsp
Garam Masala - 1/4 tsp
Raisins - 1 tbsp
Black Cardamom - 2
Process of making Sweet and Sour Karonda Pickle
Wash and dry 250 grams of Karondas thoroughly. Then remove the top stalk and cut it into two halves and also remove the black seed in the middle. Cut all the karondas in the same way and keep them in a bowl. Put 200 grams of jaggery and 2 tbsp of water in the bowl.
Cook it on low flame while stirring it occasionally till the jaggery dissolves completely. After the jaggery dissolves completely, turn off the flame and keep it. Now put 1 tbsp of oil in the pan and heat it. Put 1 tsp of cumin, 1/2 tsp of fenugreek seeds, 1/2 pinch of asafoetida and 1/2 tsp of mustard seeds in hot oil.
After the mustard seeds crackle, add 1 tsp of fennel seeds and chopped karonda to it and mix it well. Also add 1/2 tsp of salt to it and mix it well. Cover them and cook on low flame for 2-3 minutes. After the time is up, stir them and filter the jaggery syrup in it.
Now add 1/2 tsp of turmeric powder, 1 tsp of kashmiri red chilli, 1 tsp of cumin powder, 1.5 tsp of fennel powder, 1 tsp of black salt, 1/4 tsp of garam masala and 1 tbsp of raisins. Mix them well.
Cook the jaggery syrup on medium flame till it becomes thick. Also, peel 2 big cardamom seeds and grind them coarsely. Mix them well and cook a little. Then take out the syrup a little and cool it and see, a wire should come.
A wire starts to form, that means it has been made. Turn off the flame and let it cool down. When it cools down, keep it in a glass container. In this way the sour sweet pickle of Karonde will be ready. Serve it and enjoy its taste.
Suggestions
You can eat the pickle of Karonda by keeping it for a whole year.
Karonda, Karvand , kalakai or Chalkai Sweet Pickle

Tags
Categories
Karonda, Karvand , kalakai or Chalkai Sweet Pickle
Nisha Madhulika
Rating:

5.00

out of

5