Guava Candy Recipe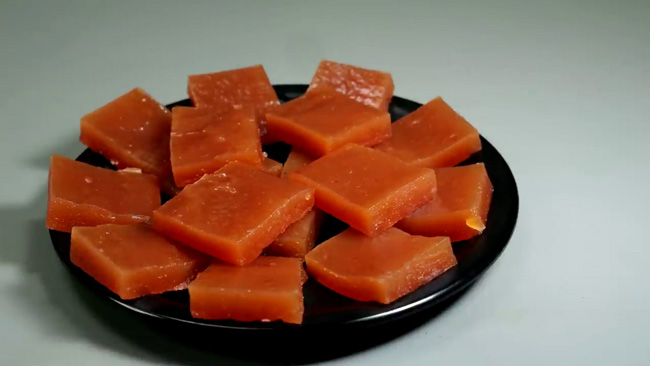 Mango season is over, so today we are going to make Guava papad. It is very easy to make and it looks exactly like mango papad. Guava papad is also known as Guava cheese. So you too make Guava Papad with this easy recipe and enjoy its taste with your family.
Ingredients for Guava Papad
Big Guava - 2 (750 g)
Beetroot - small piece
Sugar - 2.25 cups
Butter - 1 tbsp
Lemon Juice - 2 tbsp
Process of Steaming Guava
Wash and dry 2 big guava well. Remove the black part above it and cut the guavas into medium pieces. Also finely chop half a beetroot. Now take a vessel, which can come in the cooker. Put all these guava pieces and beetroot in it.
Put 2 cups of water in the cooker and place a mesh stand in it. Put the vessel full of guava beetroot on this mesh stand and close the cooker. Steam it on high flame till one whistle comes. After a whistle, reduce the flame to low and steam it for 2 minutes.
When the time is up, turn off the flame and let the cooker cool down. Then open the cooker and let the guava pieces also cool down.
Process of making Guava Papad
When the guava cools down, put it in a mixer jar and grind it finely. Remember, they have to be grinded at pulse mode, so as not to grind the guava seeds. After grinding, sieve them through a soup sieve. Remove seeds and fibre.
Measure the pulp and put it in the pan. Add as much sugar as the pulp and cook them on medium-high flame while stirring continuously. When the pulp comes to a slight boil and after cooking for 7 minutes, cook it on medium flame. Cook it till it thickens and comes to a thick consistency.
After cooking for 20 minutes, add 1 tbsp of butter and cook it while stirring. Check it, put some mixture on the plate and make it round. If it starts forming rounds then it is cooked. Now put 2 tbsp of lemon juice in it and mix it well and turn off the flame.
Grease the tray with ghee and spread the mixture evenly in the tray. Then keep it under the fan to freeze for an hour. When the time is up, it will be solidified. Cut its pieces according to your choice. In this way guava papad will be ready. Serve it and enjoy its taste.
Suggestions
Cook guava pulp and sugar on low-medium flame.
You can keep it in the fridge and eat it for 2 months.

Tags
Categories
Guava Candy Recipe
Nisha Madhulika
Rating:

5.00

out of

5