Bhutte ka Kees-Famous Street food of Indore Sarafa Market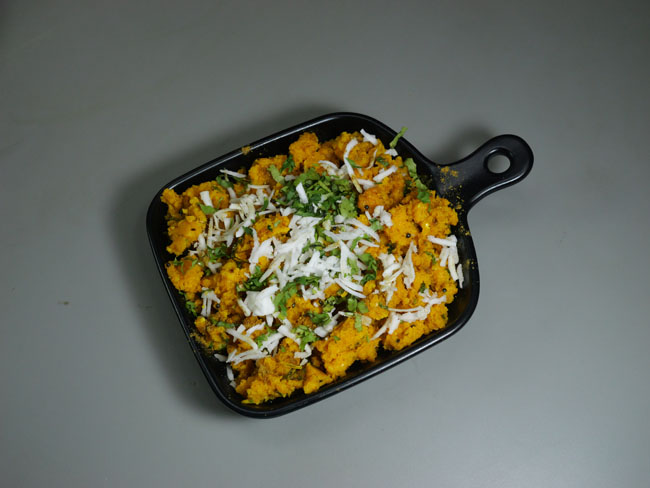 Many dishes are also made from corn, one of these is Indore's special corn kees. It is very easy to make and it gets ready in a jiffy. It is a bit different in taste but it is very tasty. If you eat it once, you will like to make it again and again. So you too make corn kees with this easy recipe and enjoy its taste with your family.
Ingredients for Bhutte Ka Kees
Corn Cob - 4 (1 kg)
Gram Flour - 2 tbsp
Ghee - 2 tbsp
Mustard Seeds - 1/4 tsp
Cumin Seeds - 1/4 tsp
Green Chilli - 2, finely chopped
Ginger - 1 inch, grated
Asafoetida - 1/2 pinch
Turmeric Powder - 1/4 tsp
Coriander Powder - 1/4 tsp
Milk - 1 cup
Kashmiri Red Chilli - 1/2 tsp
Sugar - 1 tsp
Salt - 3/4 tsp
Ghee - 1 tsp
Lemon - 1
Coriander Leaves
Jeeravan Masala
Fresh Grated Coconut
Coriander Leaves
Process of making Bhutte ka Kees
Grate 4 milky corn with a medium grater and remove the coarse fibre that came on the grater. Then dry roast 2 tbsp of gram flour in the pan while stirring continuously on low-medium flame. After roasting, take out the gram flour on a plate.
Wipe the same pan and heat it by adding 2 tbsp of ghee. Put 1/4 tsp of mustard seeds in hot ghee and let it crackle. After the mustard crackles, add 1/4 tsp of cumin, 2 finely chopped green chilies, 1 inch grated ginger and 1/2 pinch of asafoetida. Fry them lightly.
After roasting, add grated corn pulp, 1/4 tsp of turmeric powder and 1/4 tsp of coriander powder. Mix them well and fry them on low-medium flame, stirring continuously, till they change colour.
When the colour changes, reduce the flame to low and add roasted gram flour to it and mix it well. Then add half a cup of milk to it and cook by mixing it well. After the milk is absorbed, add the remaining half of the milk and mix it well. Then add 1/2 tsp of Kashmiri red chilli and 1 tsp of sugar and mix it well.
Now add 3/4 tsp of salt and mix it well. When mixed, add 1 tsp of ghee to it and mix it well, cover it and cook on low flame for 5 minutes, stir it once in between. When the time is up, add 1 tbsp of lemon juice and some green coriander and mix it well.
In this way the corn kees will be ready. Take it out on a plate and serve it with some jeeravan masala, fresh grated coconut and some green coriander and enjoy its taste.
Suggestions
Roast the gram flour and corn pulp on low-medium flame while stirring continuously.
That much corn kees is enough for 3-4 members of the family.
Bhutte ka Kees-Famous Street food of Indore Sarafa Market

Tags
Categories
Bhutte ka Kees-Famous Street food of Indore Sarafa Market
Nisha Madhulika
Rating:

5.00

out of

5