Homemade Butter Recipe from Curd using Mixer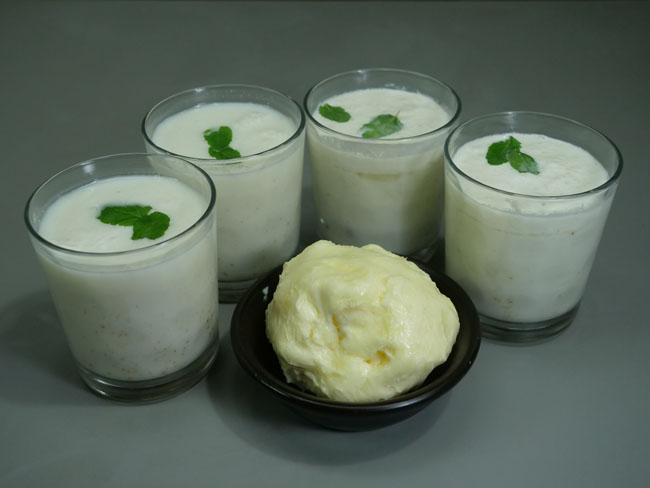 Homemade food is good for your health. At the same time, its taste is also of home, which tastes wonderful. Keeping this in mind, today we will make butter from curd at home. It is very easy to make and it will be ready in a jiffy. It is very tasty, and after eating it, you will forget about the outside butter. So make butter out of curd with this easy recipe right now and enjoy the taste of it with your family.
Process of making Butter from Curd
Fill the cream derived from curd daily in the box and keep it in the freezer. When the box is full, put the cream of the box and 1 cup of cold water in the mixer jar. Now open the mixer after running for half a minute and stir it with a spoon. Repeat this process till the butter starts separating.
As soon as the butter starts separating, take it out with a spoon and keep it in a bowl. After taking out the butter, pour cold water back into the mixer jar and stir it with a spoon for half a minute. Take out the butter in the bowl.
After removing all the butter, put 1 cup of ice water in the bowl. Then make a round ball by separating the butter from the water by hand. When all the butter separates, keep the butter in a separate bowl. In this way butter will be ready from curd. Serve the remaining chaanch in the mixer jar. Serve it sweet or salty and enjoy its taste.
Suggestions
The cream obtained from curd has to be kept in the freezer.
Take full cream milk to make curd.
Take care while taking out the butter, if the weather is hot, use ice to extract the butter. And if it is winter then use lukewarm water.
You can keep butter in the fridge and eat it for 15-20 days.
Homemade Butter Recipe from Curd using Mixer

Tags
Categories
Homemade Butter Recipe from Curd using Mixer
Nisha Madhulika
Rating:

5.00

out of

5